If you're looking for the best sugar glider cage sets, stick around!
Habitat sets can make getting them set up a lot thanks to their useful accessories like beds, pouches, and ropes.
Each addition is a vital piece in making your glider's cage as comfortable as possible.
I'll review a few of them below to show how they could make your life easier.
You'll soon know and have everything needed to set up your glider's cage perfectly.
Our Top Pick
This post contains affiliate links. We earn a commission if you make a purchase at no extra cost to you.
Check this comparison table for a quick guide to our top 3 favorite Amazon picks. Then, read the reviews for more details and the complete list.
By the way, If you don't have time to read our entire article, I'd recommend buying PinkZebraEmbroidery's Sugar Glider Cage Set.
It shouldn't have any trouble meeting a glider owner's needs for a cage set.
What Toys Should I Add to My Sugar Glider's Cage?
Before you chose a sugar glider cage set, it's essential to discuss the overall accessories to look for.
Whether you go with a set or not, these are all pretty vital to your glider's happiness.
Ropes
Sugar gliders and their owners tend to love what sugar glider toys bring into the cage environment.
These products are fun accessories capable of providing your glider with mental and physical stimulation.
However, glider owners need to be careful when buying these toys. I'd suggest only purchasing ones made from jute, sisal, cotton, or fleece to avoid any issues.
Nylon blend ropes are a hazard and should never come into your glider's cage environment.
In any case, owners who use ropes need to check them regularly, cut any visible cords, and discard the frayed ones.
If frayed ropes are left unchecked, your glider can get its little fingers stuck in them. It's excruciating and could lead to amputation.
Plastic Toys
Plastic toys are a staple in any suitable sugar glider cage. I'd personally suggest going with ones made from acrylic as they're harder to chew, which makes them last longer.
On the other hand, you should avoid soft plastic toys because the gliders could break them apart. Small plastic shards are not what you want inside your glider's habitat.
You should also opt for plastic toys made with brighter colors, which will stimulate their sense effectively. It's just another way to ensure your glider doesn't become bored.
Hammocks and Bedding
Sugar gliders are notorious for being picky about their sleeping areas. In most cases, owners have to provide three or four different locations before finding a suitable one.
You can usually count on them to prefer hammock pouches or hollow logs. These items often provide enough comfort for them to rest comfortably during the day.
But it remains vital to making sure the hammock or bedding is comfortable, cozy, and features secure stitches. Each of these aspects will ensure your glider can sleep without any dangerous situations occurring.
Bells and Rings
Sugar gliders are often vast fans of bells and rings being placed in their cages. But there are a few things to know before choosing a suitable bell or ring:
Rings can't be big enough for a glider to put its head inside it. This situation could turn tragic rather quickly.

Bells need to be large enough, so your glider can't swallow them.

Neither of these items should contain lead; it's toxic to every animal.
How Often Should You Clean a Sugar Glider Cage?
Getting cute toys and bedding are the cool part about setting up a glider's cage. The less glamorous part is understanding how to keep it clean and usable for your glider.
The first thing to know is you must clean glider cages every two weeks.
I'd suggest using a mixture of hot water and white vinegar for the task: dish soap is fine, too, as long as there's no bleach.
Please avoid using any chemicals inside the cage as it would be very harmful to your gliders' health.
You should also make sure the cage is rinsed out and dry before putting your pet back in it.
Meanwhile, cage accessories will need cleaning or removal every week, such as fleece cage sets, toys, and pouches.
Most of these items will have no issues going through the wash and dryer (don't use dryer sheets).
The cage's tray will require daily wiping, while people using liners should switch them out and wipe trays twice per week.
As you might imagine, owners need to remove and clean food dishes every single morning.
Sugar glider water bottles are a little less maintenance as they only need washing and changing every two days.
Luckily, the glider themselves never need bathing as they do the job effectively.
Given this information, you should now have a better idea about what setting up and cleaning a sugar glider cage requires.
Let's now look at five high-quality cage sets to provide a good starting point.
Related: WHERE TO FIND SUGAR GLIDERS FOR ADOPTION IN THE US (INCLUDING FREE ONES)
The 5 Best Cage Sets for Your Sugar Glider
Polar Bear's Pet Shop Jungle Bear Sugar Glider Cage Set couldn't be any cuter.
Its jungle bear design will make your sugar glider look even more adorable.
I'm smiling right now just thinking about how cute they'd look, poking their heads out of the cot.
benefits:
Six pieces: a rope, a cot, two velvet bed bear cages, and two hanging velvet sheets

All items made from durable velvet fabric

Adorable jungle bear design

Includes one free sugar glider snack with purchase

Machine washable
Cons:
Final Verdict:
But these cute designs wouldn't matter much if the pieces weren't durable. Thankfully, there's nothing to worry about here, as each item was made from durable velvet fabric.
You should expect these cage accessories to be in your life for a long time. It makes the set's expensive price tag more than worth paying.
If you're looking for a more lowkey option, KPS's Sugar Glider Cage Nest Set has got you covered.
This product's green/gray polka dot design should blend into any cage without issues.
Don't overlook the tight stitching or durable velvet fabric, either, which keeps your glider protected and cozy.
BENEFITS:
Five pieces: a tri-angle nest bed, two tri-angle velvet sheets, a square velvet sheet, and a donut hanging mobile

Tight stitching to keep a glider's nails from getting caught

Durable velvet fabric design

Edges covered in fleece for more protection

Polka dot design
Cons:
Gray coloring is a bit mundane
Final Verdict:
This 5-piece set does everything right with its proven ability to offer various comfortable sleeping spots. KPS even put a heightened focus on ensuring your glider's nails don't catch on the fabric.
But I'm not a massive fan of the color scheme. It wouldn't suit my preferences and doesn't mesh with the bright colors gliders tend to favor.
However, it's a small gripe as I can't deny that each piece is well-crafted and useful.
The Polar Bear's Pet Shop Forest Sugar Glider Cage Set brings nature right into your glider's cage.
Each item's forest-based design promotes an outdoorsy feel like no other cage set.
Your sugar gliders will feel a lot more comfortable and at home than ever.
BENEFITS:
Seven pieces: a velvet hanging log, a velvet cage edge corner cushion, two triangle sheets, a twist vine rope, a square sheet, and a swing

Machine washable

Proven to be exceptionally durable

All items have unexposed seems to protect sugar gliders' nails

Promotes an outdoorsy feel
Cons:
Final Verdict:
The outdoorsy design, machine washable abilities, and exceptionally durable makes this set a sugar glider owner's dream. I didn't even mention that it has unexposed seems to ensure no dangerous situation arises.
But it was a bummer that these items could only be air-dried. It makes the cleaning process a bit more complicated than similar sets on this list.
I'd end up getting over this small issue rather quickly, though, as everything else about this set meets my needs.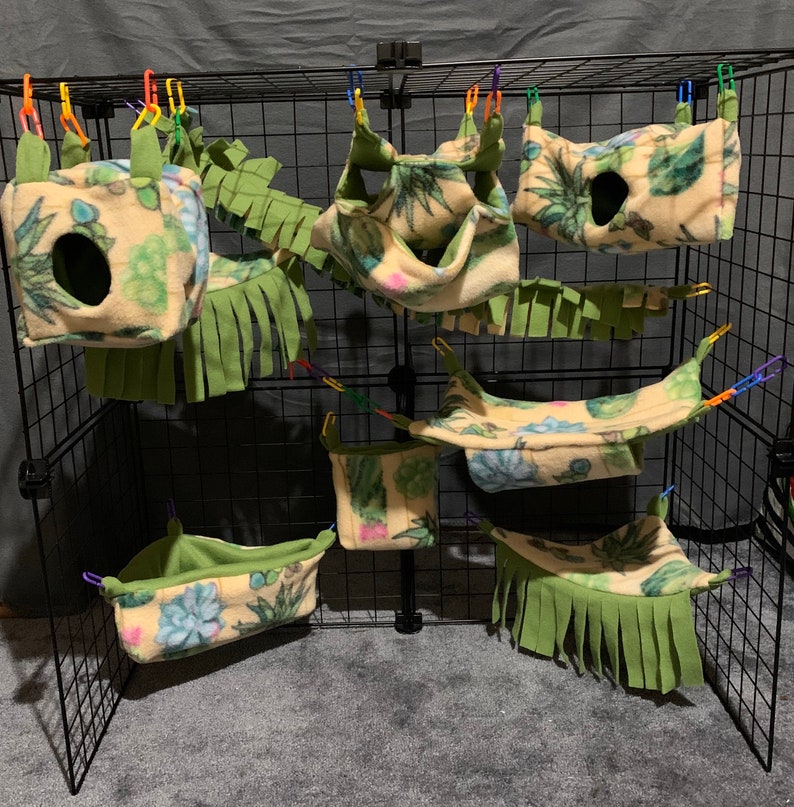 People looking for the most flexible option should consider LittleCritterzDesign's Cage Set.
This 9-piece set is available for custom orders based on your color and pattern ideas.
More importantly, every piece is handmade from fleece to offer maximum safety for your gliders.
benefits:
Nine pieces: two hammocks with fringe, a pouch, a tunnel bridge, a vine, a honeycomb hammock, a corner cube, a corner basket, a cube hide

All items have handmade fleece based designs

Reasonable price

Excellent, sturdy craftsmanship

Custom orders available
Cons:
Some durability concerns with the hammocks
Final Verdict:
Bargain buyers should be jumping out of their beds and racing to pick up this set. It comes with everything a glider owner could want while still being less expensive than some 5-piece or 7-piece sets.
The only issue is a few customers did report the hammocks having a few durability concerns. It seems the start to wear down after months of regular usage.
But this price tag makes dealing with these issues more than worth it.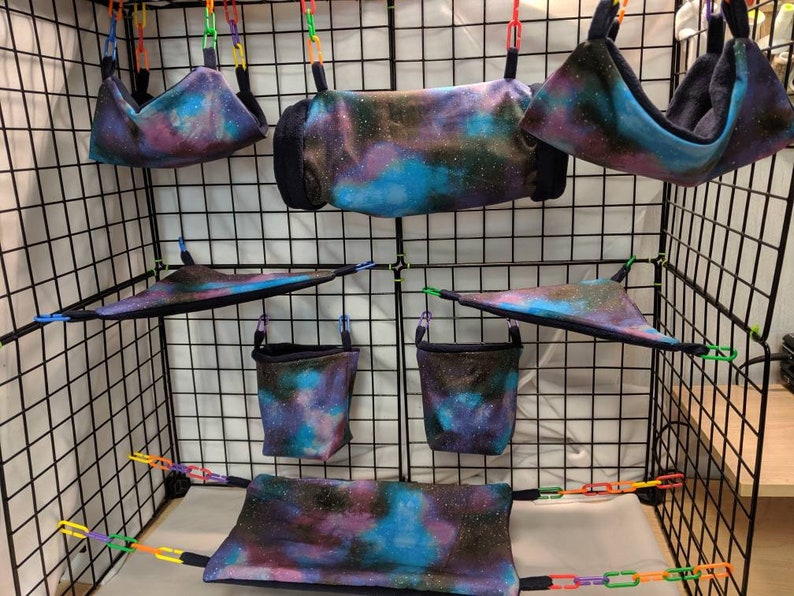 Our final option features my favorite design scheme among these cage sets.
PinkZebraEmbroidery's Sugar Glider Cage Set beautiful Aurora sky design will take your breathe away.
If it doesn't, its high-quality 8-piece set with 28 chain links and the attractive price will get the job done.
benefits:
Eight pieces: two sleeping pouches, a tunnel, two parachute pouches, a bounce and play bridge, and two corner hammocks

Includes 28 chain links

Every item is made from a combination of cotton, flannel, and fleece

Beautiful Aurora sky design

Affordable price
Cons:
Slower shipping than normal
Final Verdict:
The Aurora sky design is this set's obvious highlight, but everything else about it is also top-notch. I can't say enough about the fleece, cotton, and flannel constructions of each item. Your glider has probably never experienced this amount of comfort in their lives.
But buyers will have to wait a bit longer than usual as shipping is a little slower. It's a small price to pay for this outstanding product from PinkZebraEmbroidery.
Recommendation
It shouldn't be too shocking to learn my recommendation would be picking PinkZebraEmbroidery's Sugar Glider Cage Set. Everything about this set is perfect for making a glider cage feel like home.
Related: DOES YOUR SUGAR GLIDER NEED A HEAT ROCK? [QUICK GUIDE]
Final Words
If you have any more questions or concerns about these discussions, please let me know in our comment. I'd love to help you out in any way possible. Thanks for reading!
what are your favorite sugar glider cage sets? share below!
Ben Roberts
My name is Ben Roberts, and I absolutely love animals. So, naturally, I love writing about them too! As far as my animals, I have a Pit-bull, a Beagle-lab mix, a Chihuahua, and one old cat. Each one of them provides me with a new adventure every day. And the best part is they're all best friends. Well, except the cat when he gets a little annoyed.
FIND HIM ON: FACEBOOK