A friend called to ask me where to buy guinea pig clothes since she knew my daughter had the best-dressed cavy in town!
I suggested a couple of great places and she checked them out.
She called back to confirm that she'd got what she'd been looking for.
From full-body outfits to costumes of elves, Santa Claus, unicorns, and Bumblebee, you can find a variety of amazing and adorable guinea pig clothes for your fashion-forward pet!
FYI, this post contains affiliate links. We earn a commission if you make a purchase at no extra cost to you.
Where to Buy Guinea Pig Clothes – Our Top 3 Picks
Amazon has the best choice in guinea pig clothes including cute little graduation hats, guinea pig hats, bow-ties, Valentine's Day special outfits, Halloween special clothes, sweaters, sweatshirts, and warm vests for winters.
Your little guy or gal will look adorable in these sweet and comfortable outfits.
Our favorite: This adorable fleece vest cute strawberry design for the holidays and winter months.
Etsy is the perfect place to buy handmade guinea pig clothes. They can come from across the ocean too, so don't be too surprised if you have to pay a shipping fee if your pet's clothing comes from Sweden.
Our favorite: From pumpkin hats to crocheted sweaters to sombreros and outfits for daily use; there is something for every little guinea pig on Etsy.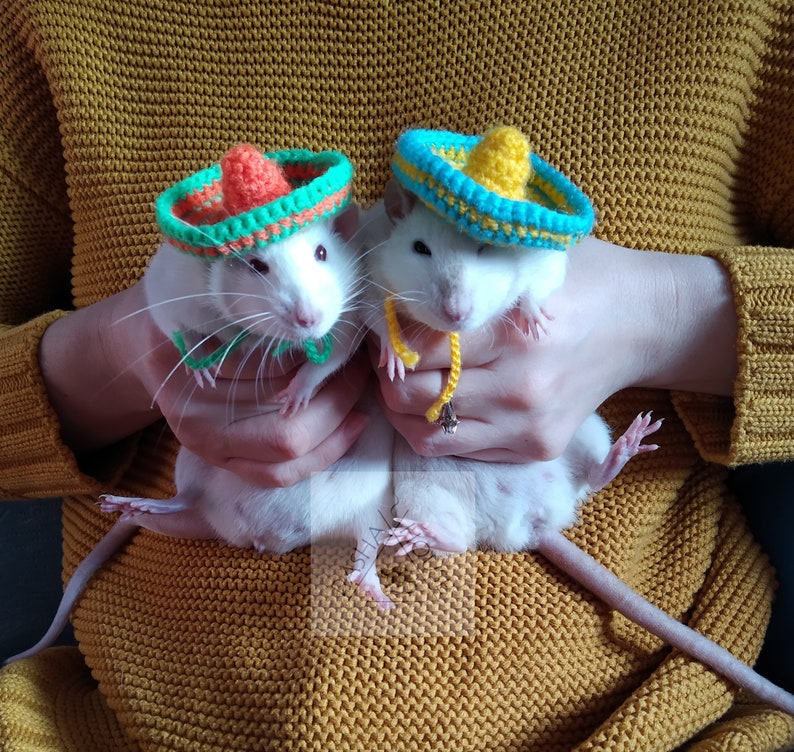 Joom has a wide range of harness vests, summer clothes, Christmas specials, and warm or plush fleece clothing for your small pet. They also have great deals on guinea pig clothes.
We love these printed cute travel vests made in cotton. They are skin-friendly, breathable, and adjustable to fit different sizes of guinea pigs, and young rabbits.
Our other favorite: This Christmas costume and hat for your adult or baby guinea pig.
CHECK MORE: Guinea Pig Christmas Outfit
Is It Okay to Dress Up Guinea Pigs?
It has become a trend to dress up our pets especially on Holidays like Halloween, Christmas, and Valentine's Day.
Sure, it is alright to dress up your guinea pig as long as you follow certain guidelines. These include the following:
1. The clothes allow easy movement
Always ensure that your small pet is able to move easily. The clothes you select should not be restrictive.
Make sure that the guinea pig dress does not get in the way of your pet's usual movement, resting, potty, and feeding.
Avoid clothes that have tassels or parts that pose a choking hazard. Also, ensure that the clothing won't get caught in the pet's cage or wire mesh.
2. Your costume choice should not stress your pet out
In winters, we might think we are doing our guinea pigs a favor by dressing them up in sweaters. However, always lookout for signs that your pet is overheated or stressed.
Small pets can become aggressive if they are uncomfortable. Your guinea pig will also act differently if it isn't happy with the dress.
3. The costume is respectful
We don't want our guests to make fun of or laugh at our guinea pig outfit. So look out for decent clothes for guinea pigs that are respectable and not vulgar or obscene.
Pets are sensitive and they know when you are making fun of them.
4. You use it for short periods only
If you have dressed up your Guinea pig for Halloween or Christmas, make sure you use the clothes for guinea pigs only for a short period of time.
That way, your pet won't be uncomfortable. If you have bought a guinea pig sweater, sweatshirt, or an everyday costume, do ensure that your pet does not get hot and stuffy in it.
Look at this cute guinea pig in a bumblebee costume:
READ MORE: How to Make Guinea Pig Clothes?
FAQs
Do guinea pigs like costumes?
As guinea pig owners, we often do not stop and think about what our pets may or may not like. In the wild, we don't see them wearing guinea pig outfits, do we?
This indicates that they aren't supposed to wear clothes. However, most guinea pigs would appreciate costumes in winters and in the cold season as well-made fleece costumes can keep your pet snug and warm.
Can guinea pigs use collars?
Collars can be a choking hazard for your small guinea pig pals. Instead, use a guinea pig's harness vest which is a lot safer and does not exert unnecessary pressure on its small neck.
Can guinea pigs wear Halloween costumes?
Yes, guinea pigs can wear Halloween costumes provided the selected clothes are safe, comfortable, and do not harm or hurt your pet. Only use the cute fleece costumes for guinea pigs for a short period of time.
Conclusion
I hope this gave you some good ideas on where to buy guinea pig clothes.
You really can never go wrong with Amazon or Etsy, so I recommend starting there.
References
Guliana. 2019. "Can a Guinea Pig Wear Clothes? – Does It Cause Stress?" Pocket Sized Pets. Mason. October 19, 2019. https://pocketsizedpets.com/can-a-guinea-pig-wear-clothes-does-it-cause-stress/.
King, Lydia. 2019. "Can Guinea Pigs Wear Clothes? Why or Why Not? | the Big Zoo." The Big Zoo. September 9, 2019. https://thebigzoo.com/animals/can-guinea-pigs-wear-clothes-why-or-why-not/.
Do you know other stores where to buy guinea pig clothes? Please share with us below!
Andreea Juganaru
Andreea is a very passionate content creator and her purpose is to provide you with the most interesting articles, while constantly discovering new facts. She's been freelance writing for the past five years and has created numerous articles and educational materials while managing her own mom blog.
Read her Latest Articles
Find her on
FACEBOOK AND Instagram