Need help finding the perfect guinea pig Christmas outfit?
I've gathered three available options to give your furry friend some style this winter.
So let's see what one would best suit your favorite pet!
Let's start with a quick look at our top picks, then keep reading for all the glorious details.
Guinea Pig Christmas Outfit Top Picks at a Glance
If you see the value in these products and choose to purchase via my referral links, I may earn a small commission at no extra cost to you.
Check the table below for a side-by-side comparison of our favorites!
Top Benefit
Comfortable and warm to wear
Top Benefit
Comfortable and warm to wear
3 Best Guinea Pig Christmas Outfits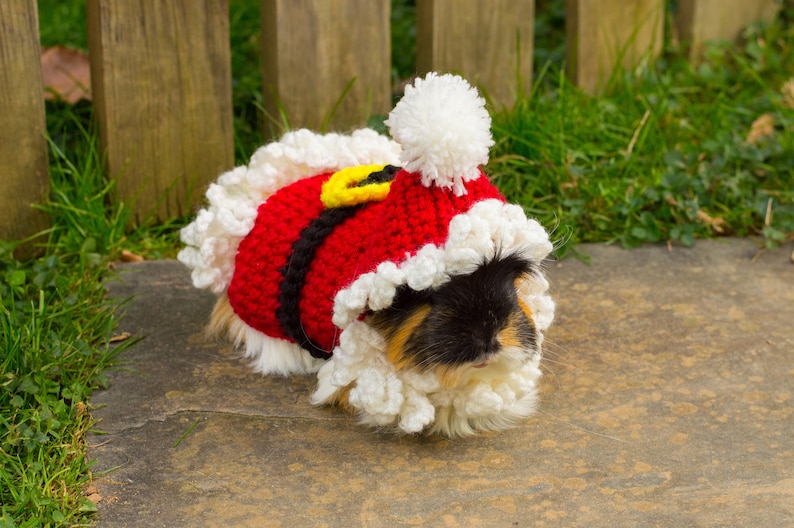 Guinea pig clothes and costumes don't get more festive than GuineaPigPatterns's Crochet Xmas Jumper.
It's a complete handmade Santa suit that's perfect for the Holidays months.
The adorable design sure helps, too, as your furry friend will be ready for the ultimate photoshoot.
Plus, it should last a long time due to the durable crochet material.
Physical Attributes
Handmade
Made with crochet material
It comes with a buckle
Fluffy beard
Measurements
Benefits & Drawbacks at a Glance
| Benefits | Drawbacks |
| --- | --- |
| Complete Santa costume | No refunds |
| Cute design | A bit expensive |
| Versatile to work as guinea pig sweater/hoodie | |
| Durable materials | |
| Free shipping | |
Benefits
Christmas costumes for Guinea pigs rarely come with this much detail. A complete Christmas hat/sweater costume with a fluffy beard and buckle is a rarity in the guinea pig products market.
As a result, it creates one of the more unique and cute sets of guinea pig clothes. Your friends and guests will be dying to know where you get this adorable guinea pig costume.
The versatility is an understated aspect as it doesn't have to be a Santa costume. A guinea pig owner can make it into a Christmas hoodie, as well.
Lastly, it's hard not to like the durable design and free shipping. These are excellent additions to show its overall convenience and user-friendliness further.
Drawbacks
But the manufacturer doesn't offer refunds due to COVID, which is a bummer. So ensure you provide the proper measurements for their cavies before buying.
It also does cost a bit more than you'd expect for festive costumes.
How it Compare to Others and Why
The detailed, complete Santa design separates this option from its competitors. Plus, buyers won't find more durable or convenient cute costumes for their piggies.
Expert Tips
Available customization via email with the supplier
Vehomy's Guinea Pig Christmas Hat & Scarf is an ideal fit for multi-pet homes.
It comes with two hats and two scarves, which provide various uses.
So you could get more than your cavy into the holiday spirit.
But, more importantly, it has the lowest price among these choices.
Physical Attributes
Two Christmas red Santa hats
One red, green stripe scarf
One white, red stripe scarf
Made from acrylic yarn and flannelette
Adjustable elastic belt with lock
Measurements
Christmas hat is 2.8″ W x 4.3″ H
Craves are 11.8″ L X 0.79″W
| Benefits | Drawbacks |
| --- | --- |
| Comfortable and warm to wear | Sizing issues for larger adult guinea pig |
| Suitable for various animals (bunny, hamster, cavies, and more small pets) | |
| Lowest price | |
| Versatile with adjustable size (elastic belt) | |
| Bright festive Christmas colors | |
How it Compare to Others and Why
The adjustable belt provides a bit more versatility than you'd expect from pet holiday costumes. It allows the product to work on hamsters, bearded dragons, gerbils, and similar smaller pets.
Vehomy Small Animal Christmas Costume - Christmas Guinea Pig Hat and Scarf for Hamster Guinea Pig Chinchilla Hedgehog Lizard Bearded Dragon and Other Similar Small Pet L
Product Size: There are two sizes for your choice. The large size is recommended for guinea pig, bunny. The Christmas Hats are 2.8" in width and 4.3" in height. The Scarves are 11.8" in length and 0.79" in width.
Material: Our guinea pig christmas costume is made of flannelette and acrylic yarn, comfortable and warm to wear.
Package Including: 4pcs in 1 set. 2x small pet hats and 2x mini scarves: 2x Red Santa Claus hats, 1x small pet christmas scarf with green red stripe, and 1x small pet christmas scarf with white red stripe.
Beautiful Appearance: The bright green red white color and pompon design of our hamster christmas costume make your pet cute and stand out, the mini xmas pet hat can help small pets get into the atmosphere of Christmas quickly. In order to make it easy for pets to wear, we have specially designed the elastic belt with a lock, which can be adjusted in size.
The Best Christmas Gifts for Your Furry: Adorable Christmas outfit for your pets, allowing them to share love and happiness with you. Ideal for Cosplay, party, festival decor, Halloween, Christmas, photo shoot and so on.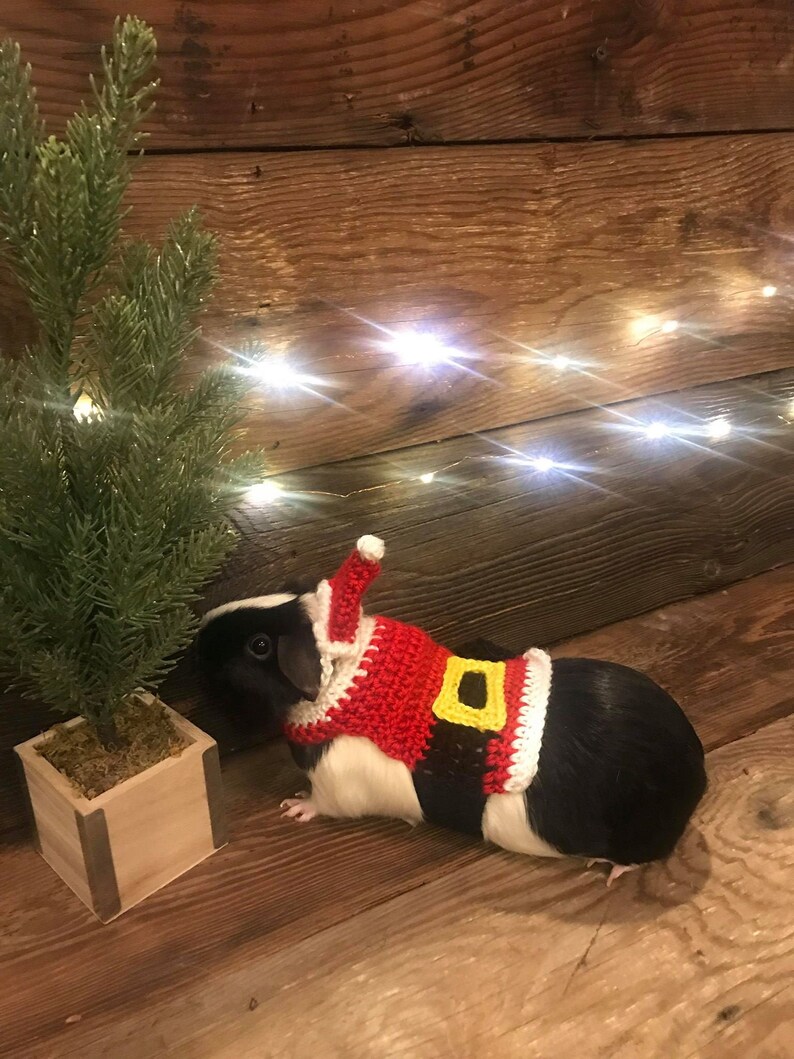 Our final product, EnchantingCreations7's Santa Small Animal Clothes, has no issues spreading holiday cheer.
Its Santa suit design and antlers will fit right into any home Christmas spirit.
Don't sleep on the various buying options, either.
You can even ask for a custom order if the sizes don't meet your piggy's measurements.
Physical Attributes
Handmade
Made from acrylic yarn
Two buying options (Christmas hat only and Christmas hat/sweater combo)
Santa suit design
Includes antlers
Measurements
Four sizes (Baby 5 1/2″ neck, Teen 6″ neck, Adult 6 1/2″ neck, and Adult 7″ neck)
| Benefits | Drawbacks |
| --- | --- |
| Full Santa suit (Christmas hat, sweater, and even antlers) | Most expensive option |
| Cute, cozy design | Slow shipping |
| Suitable to fit lizard, Syrian hamster, cavies, and other small pets | |
| Various buying options | |
| Custom orders available | |
How it Compare to Others and Why
The level of customization is a nice added touch by this seller. Likewise, you can't overlook the included antlers or full Santa suit. Both these attributes made it a hard costume to ignore.
Check: Guinea Pig Shark Costume and Other Adorable Outfits
Guinea Pig Christmas Outfit FAQs
Should a guinea pig wear clothes?
Cavies can wear clothes but only for short periods as it can stress them out. You should also "never make a guinea pig wear clothes when they're alone."
Should you move your guinea pigs indoors for winter?
Many owners choose to bring their piggies indoors when winter hits. If you can't keep their environment's temperature above 60 degrees Fahrenheit or 15 degrees Celsius, "they should be kept indoors."
Conclusion
I hope our discussions about guinea pig Christmas outfits answered all your questions. If you have any more, let me know in our comment section. Thanks for reading!
Final Recommendation
You can never go wrong with GuineaPigPatterns Crochet Xmas Jumper!
What is your favorite guinea pig Christmas outfit? Please share your pick below!
Ben Roberts
My name is Ben Roberts, and I absolutely love animals. So, naturally, I love writing about them too! As far as my animals, I have a Pit-bull, a Beagle-lab mix, a Chihuahua, and one old cat. Each one of them provides me with a new adventure every day. And the best part is they're all best friends. Well, except the cat when he gets a little annoyed.
FIND HIM ON: FACEBOOK and TWITTER.
Read his latest ARTICLES
Learn more about Benhere