Yep, guinea pig harness and leash are actually a thing!
And if you were wondering, "Can guinea pigs wear harnesses?" then this article is the answer to your question!
Yes, and we have reviewed some of the best products for your sweet pet!
Let's start with a quick look at our top picks, then keep reading for all the glorious details.
CHECK: Best Guinea Pig Litter Box Ideas
Guinea Pig Leash and Harness Top Picks at a Glance
If you see the value in these products and choose to purchase via my referral links, I may earn a small commission at no extra cost to you.
Don't have time? Here is a quick comparison of our favorites!
Table could not be displayed.
10 Best Guinea Pig Leashes And Harnesses (Buyer's Guide)
In case you are a guinea pig owner and looking for leashes for guinea pigs, this article is your one-stop to pick the best buy.
Physical Attributes
This compact harness is convenient to use, with holes for your pet's paws and a snap hook that's easy to fasten.
The quality of the material is crafted with high-quality soft leather and cut accurately to fit various body sizes.
The rope which attaches with the stainless steel hook is made of nylon. This is lightweight yet strong enough to take full hold of the harness.
The inside of the harness has some fluff so that it doesn't irritate your cavy's chest area or press hard onto the fur of your pet.
It prevents damage that could occur due to the hard rubbing of a material against the delicate chest area.
Measurements and sizes
One of the best parts about this harness for guinea pigs is that it comes in three different sizes so you can pick a size according to the size of your small pets.
A small crawling pet can easily adjust to the size of the harness, and you can adjust it farther as your piggy grows.
The harness is designed to fit perfectly to the body structure of small pets. So while your pet moves freely, they do not wiggle out of the harness.
Since only a part; the upper quarter of the chest area is covered by the harness, the movement is not restricted and the little ones can enjoy moving back and forth all the time.
| Benefits | Drawbacks |
| --- | --- |
| Easy to slide on | If you don't pick the right size, your pet can easily wiggle out of it. |
| It's budget-friendly | Not the most durable |
| Crafted to especially fit small body sizes | |
| The inside is made of leather so it's comfortable for your pet | |
| Allows easy movement and fits just right | |
How it Compares to Others
This harness has a warranty of 60-days too so in case it doesn't work for you, it can be returned. Moreover, there are two harnesses included so you always have a spare one at hand!
Expert Tip:
Always make sure the harness you purchase fits comfortably on your pet's body and does not restrict the movement
The material must be compatible with your pet.
CHECK: 8 Best Playpen for Guinea Pigs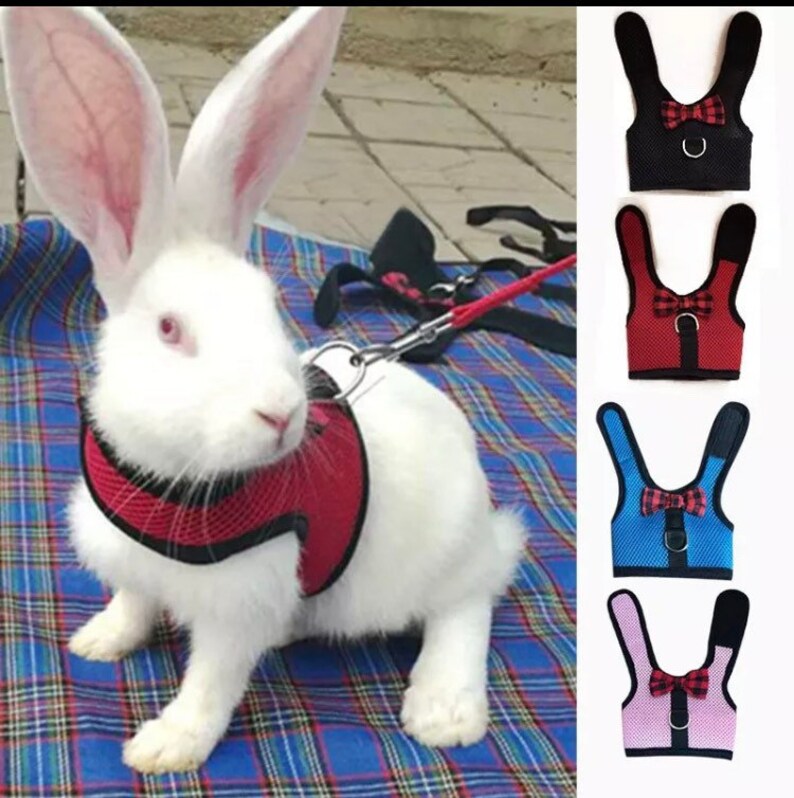 Physical Attributes
If you have been trying to get hold of some handmade guinea pig leashes and harnesses which they will love here is one we found for you!
Starting off with the material, the harness is made with mesh which is very helpful in keeping the pet cool since they are already covered in fur.
The harness is neatly crafted with a bow tie making it look cute and stylish for your little fur baby.
The harness is attached with a matching leash via stainless steel hooks that firmly interlock. Mesh and the leash are lightweight and yet strong enough to sustain stretching.
Easy to slip in the two front legs of your small pet and it just firmly grips the chest area though it covers more surface area of the chest.
Measurements and Sizes
Available in three sizes
Size S measures about 18-24cm for neck and chest size is between 20-23cm including the back length which is about 8.5 cm making it feasible for small-statured pets to easily adjust.
Size M which measures at neck 18-24cm and 20-23cm in the chest area. The back length reaches 8.5cm which means a healthy animal will do just fine.
Size L measures about 34-38cm and the chest size are 35-40cm. With the back length at 12.5cm, it will do just fine for bigger-sized animals too.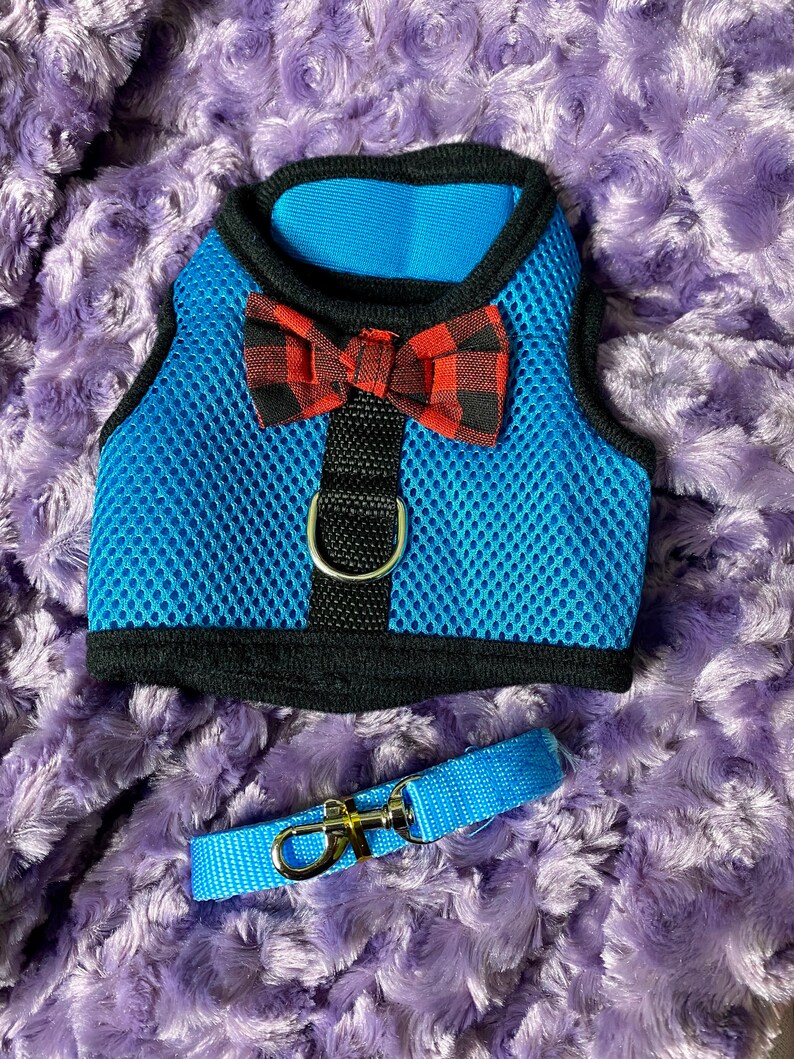 | Benefits | Drawbacks |
| --- | --- |
| Grips your pet's body firmly | You will have to watch out for the length before ordering for very tiny pets. |
| Made in mesh which helps keep cool | |
| Available in great colors and comes with a bow tie | |
How it Compares to Others
The fitting is just right to allow the animal to move around freely as well as helps in staying put. Can be used casually as well as fancy wear for your little pet, you can make them wear it when going for a walk or at a party.
Expert Tip:
Check the size before ordering to make sure it isn't loose and fits accurately to your pet.
Physical Attributes
The material of the Pettom harness is probably the most breathable and softest you will find among others.
The nylon leash is lightweight and stretches enough to let your pet wander off freely. The guinea pig leash is fastened with the harness via a nylon strap with a buckle strap.
The leash stretches to a good length as well.
The straps are adjustable at the chest as well as the abdomen and stomach area. This makes it easy for your little furballs to fit in comfortably.
Measurement and Sizes
Luckily this harness is available in two sizes. Large and small, however with the adjusting diameters for the neck and chest area, it will easily fit a medium size too.
The small size is adjustable for pets weighing between 3lbs- 6lbs and the large size will fit just fine to pets weighing anywhere between 4lbs-8lbs.
| Benefits | Drawbacks |
| --- | --- |
| Harness is padded | You might not find the right size for very tiny pets. |
| Available in various colors | |
| Lightweight | |
| Stretchable leash | |
How it Compares to Others
The self-adhesive tape makes it easy and quick to slide onto your pet and buckle up.
The harness is soft padded to add extra protection to your pet's body which is in contact with the harness. Allows swift movements while in a comfortable grip.
Expert Tip:
Before your purchase, check your pet's weight to ensure the correct size.
Physical Attributes
Made of high-quality cotton which is non-toxic and comfortable to move around in, the Popetpop harness and leash stand out among the rest. The material is lightweight, only 12 grams, and easy to machine wash as well as hand wash.
The harness can be attached with the leash via a hook loop which is easy to remove and attach quickly.
Cotton is a soft material allowing the body to adjust comfortably without pressing onto the fur.
Measurements and Sizes
Both the harness and leash are available in two sizes small and large.
The large size (L) easily fits fur pets with chest sizes between 24cm to 27cm whereas the size (S) fits smaller pets with chest sizes varying between 18-24 cm.
| Benefits | Drawbacks |
| --- | --- |
| Velcro helps with easy wearing | No medium size available |
| Made in high-quality cotton | |
| Available in two sizes | |
How it Compares to Others
Velcro which is already adjusted to the harness lets you slip in the harness easily without having to tightly hold your little pet and forcing them into it.
Expert Tip:
Wash separately, try to hand wash when possible to help materials last longer
Physical Attributes
An adorable piece of harness and leash for your fur babies. This one is more on the fancier side and can be used for special occasions.
The fabric is soft and breathable making it comfortable for small pets. Especially compatible for pets with a lot of fur for the summer season helping them keep cool. Both the leash and harness are made in a soft, lightweight material.
Adjustable straps at the chest and belly area make it easier to slide it according to the body size.
Measurements and Sizes
The leash extends to a length of 4.4 feet which is a safe and controllable distance for your little pet to wander around.
The harness is available in a size that is adjustable for most small pets without much hassle. Not only does the harness allow easy movement but firmly grips the body shape
The cloth is easy to fold and put away in a bag or a pocket.
| Benefits | Drawbacks |
| --- | --- |
| Available in various colors | Too fancy for casual wear |
| Leash length is manageable | |
| Lightweight harness | |
| Budget-friendly | |
How it Compares to Others
This pet harness comes with a bell and floral design making it eye-catching for everyone.
The sound of the bell is pleasant to the ears and crisp clear so that in case your pet gets lost, you can listen to the sound of the bell to track them.
The harness also acts as a shield for preventing the animals from scratching or licking themselves.
Expert Advice:
Check the size carefully before ordering. Also, check if your pet is acquainted with the sound of a bell.
Physical Attributes
A cute, strong, and adjustable leash, made in nylon with metal adjustment buckles. Lightweight and comfortable at the neck circumference, easy to adjust in a way that it can never choke your fur baby. It is available in various fun colors to pick from.
Measurements and Sizes
The total length of the leash is 83cm which includes 6.15cm of neck circumference and 18cm of chest circumference.
| Benefits | Drawbacks |
| --- | --- |
| Comfortable rope length stretches far | The material might not be breathable |
| Soft material | |
| Easy to adjust according to the stature of your pet | |
How it Compares to Others
The 8 lock is placed on the sternum of the animal. One end of the rope is to be out around your fur baby's neck and the other end is at mid-abdomen. This really helps to comfortably adjust the firmness of the harness.
Expert advice:
When fixing the locks and circumference around the neck and abdomen, analyze the breathing pattern and then adjust the rope leaving enough space for the abdomen to expand without any obstructions.
Physical Attributes
This harness can be used both for keeping your pet safe from wandering off too far and as a cute costume. These guinea pig leashes and harnesses are tailored in soft cotton fabric.
The fabric is light in weight and feels comfortable to touch and wear for your pet. Doesn't exert pressure on the area it covers.
This harness lasts long so you are going to be holding onto it for some good time.
Measurements and Sizes
The sizes are adjustable including the neck circumference which can be adjusted between 19-30cm. While the waist circumference is about 25cm to 40cm. The back length measures up to 19cm, just fit for small animals weighing around 1.5 pounds.
| Benefits | Drawbacks |
| --- | --- |
| Comes with cute accessories | Contains small accessories, might cause choking if chewed or swallowed by pet. |
| Made in lightweight fabric | |
| Easy to make pet wear it | |
How it Compares to Others
It is a chic piece for your little fluff pet. The parcel contains a piece of pineapple harness dress, a single piece of pink pet harness dress, a small hat in yellow, and a mini bag. It also comes with a rabbit brooch so you have a complete set for your little pet.
Expert Advice:
This product contains small accessories, make sure you supervise your pet and stop them if they chew on the product.
Physical Attributes
The PAWCHIE rope leash is made of soft knitted fabric which makes it lightweight and comfortable for fur babies. Available in a striped pattern, you can pick the colors accordingly. It includes a drawstring buckle, the plastic button helps adjust the circumference around the neck of the pet.
Measurements and Sizes
The size of the leash in context to the length is about 55 inches making it suitable for neck and chest girths 0.4-4.5inches. Taking your pet for a walk with this leash makes it easier.
| Benefits | Drawbacks |
| --- | --- |
| Thickened knitting allowing a firm grip | The knitting might wear out with time. |
| Adjustable harness | |
| Doesn't put a strain on your pet's body | |
How it Compares to Others
The leash provides full protection on the stomach as well as the neck area. It won't exert much pressure on the areas it is in contact with.
The leash is comfortable to grip, doesn't put a strain on your hand or your pet's neck or body. The weaving of the handle is specially thickened for a firm yet comfortable grip.
Expert Advice:
When adjusting the leash make sure to note the leash is not tight around the neck area, it should just stay put.
Physical Attributes
This harness vest is made in high-quality nylon material making it durable and not easy to break even after repeated uses.
The leash and harness are designed in such a way as to prevent tugging and pulling on your pet's sensitive body parts like the neck and chest. The harness keeps your pet safe and comfortable throughout seasons especially the colder season. The leash and harness are detachable. The hook lock is easy to slide in the buckle.
It doesn't restrict any movements and also prevents them from scratching or licking themselves
Measurements and Sizes
There are two sizes available, Medium and Large. The medium size has dimensions of neck measuring 14-18cm, chest 18-25cm and back length at 10.4cm. Ideal for pets weighing 60g. The large size has dimensions of neck measuring 16-20cm, chest 20-32cm and back length at 12.2cm, ideal for pets weighing 70g.
| Benefits | Drawbacks |
| --- | --- |
| No pull prevents tugging on the neck and on the sensitive spine | The safety belt needs to be adjusted accurately |
| Lightweight and easy to slip on | |
| Available in multiple colors | |
How it Compares to Others
This is portable and easy to slide on and off your little pet. The safe belt for your pet makes it safe for all outdoor activities while maintaining the natural movements of your little fur baby. The safety belt is designed in soft material preventing burden on the neck or chest as well.
Expert Advice:
Make sure to keep the harness clean and check for dirt after every use.
Physical Attributes
The harness is crafted with soft, comfortable, and breathable mesh fabric which makes it ideal for summers as well as seasons all year round. Due to the lightweight, the mesh harness doesn't put a strain on your small pet's body so they stay comfortable while moving around.
The harness is easy to put on, just unclip the harness and lay it on the floor then place the harness on your pet's back. Handle parallel with neckline ring at the back. Lastly, clip the Velcro under the chest and neck while adjusting it so that free-range movement is allowed.
The harness is designed to encourage the free movability of your pet and make sure there is no restriction in their activities.
Measurements and Sizes
The guinea pig leash that is a part of the harness is 4.4ft in length. The chest girth is 4.5″-7.0", neck 2.5-5.5", and back length 2.8" makes it adjustable for small fur pets and you can easily slide it on.
| Benefits | Drawbacks |
| --- | --- |
| Easy to put on | The material might not be breathable for extreme summers |
| Adjustable length and diameter for neck and chest area | |
| Fabric is ideal for all year round | |
How it Compares to Others
Rypet guinea pig harness reduces tugging and pulling on the little pet's chest and neck so they walk freely while wandering around but don't go too far.
Expert tip:
While putting on the harness ensure free movement of the pet, do not force it, and tighten gently leaving enough area for chest expansion.
CHECK MORE: Gifts for Guinea Pig Lovers
How to Choose the Safest Harness for Guinea Pig?
Make sure the harness you pick is not too small or too big for your pet. It should help your little pet stay put and not restrict movement.
Always check the material or the fabric of both the leash and harness. The harness vest must always be breathable and of good quality. The leash should be strong enough to hold onto your pet's movements to keep them from going too far.
Choose a harness or leash which works best for your pet. This solely depends on your pet's activity, the more active they are the safer the harness proof to be as they help keep these small pets in control.
FAQs
Are harnesses safe for guinea pigs?
Yes, these are safe as long as they allow free movement of the little animal. The harness should not suffocate nor should be too loose to let the pet wiggle out of it.
Can you walk a guinea pig on a leash?
Yes but you need to be extremely careful as guinea pigs have a sensitive spine so you be sure not to tug onto it too hard. Never suddenly tug when your guinea pig is running, it can damage the spine.
Is it OK to put a leash on your guinea pig?
While it is OK to put a leash on it but you cannot tug or pull onto it as you would on your pet dog as guinea pigs have a sensitive spine.
Can guinea pigs go outside?
Guinea pigs can stay both indoors and outdoors but since they are very sensitive to sounds, you need to make sure to keep your home quiet. Because they are nature-loving, you will see them happiest outside.
How do you walk a guinea pig?
Do not force walk your guinea pig, while they cant be trained to walk beside you on a leash, they will stay close to you and a leash will help keep them in control.
Conclusion
Finding the right leash and harness for guinea pigs can be hard due to their small size and little furry body. These little animals have a sensitive spine and thus pulling and tugging harshly can cause damage to them.
When picking a harness and a leash make sure the fabric is breathable and made in prime quality. The vests we have reviewed are best sellers and will make your little ones look adorable and stylish. A chic harness will help to quickly identify your little pet anywhere and especially the bells incorporated in some of the vests mentioned above help you keep track of the little furballs.
These harnesses for guinea pigs keep them comfortable while they carry on with their normal activities while keeping them safe. Always consider your budget as well as the right size which should fit your pet perfectly. Look out for their comfort and ease. Let loose of your little pets in the wild and encourage outdoor wandering while keeping them secure.
Final Recommendation
What is your favorite guinea pig leash and harness? Please share with us below!
Andreea Juganaru
Andreea is a very passionate content creator and her purpose is to provide you with the most interesting articles, while constantly discovering new facts. She's been freelance writing for the past five years and has created numerous articles and educational materials while managing her own mom blog.
Read her Latest Articles
Find her on
FACEBOOK AND Instagram