Are you looking for a guinea pig exercise pen?
I've gathered up 8 available options that'll spice up your furry friend's exercise time.
Let's see what one best suits your guinea pig's needs!
Let's start with a quick look at our top picks, then keep reading for all the glorious details.
READ MORE: What Do You Put in a Guinea Pig Playpen?
Guinea Pig Exercise Pen Top Picks at a Glance
If you see the value in these products and choose to purchase via my referral links, I may earn a small commission at no extra cost to you.
Check the table below for a side-by-side comparison of our favorites!
Table could not be displayed.
Best Guinea Pig Exercise Pens (Review Guide)
ToysOpoly's #1 Portable Pet Playpen is one of the more convenient available guinea pig playpens.
Owners can use it as a guinea pig indoor or guinea pig outdoor playpen without issue.
Its ability to fold completely flat makes moving it from locations much easier, as well.
As a result, hanging out with your piggies becomes a lot simpler.
Physical Attributes
600D cloth fabric
8-panel design
Metal wireframe
Removable top zipper
Waterproof bottom zipper
Side pockets
Measurements
| Benefits | Drawbacks |
| --- | --- |
| Easy to clean | Material isn't chew-resistant |
| Folds flat for simple storage | Some say it has an odor, so you need to air it out |
| Enclosed on all sides for safety | |
| Top-tier portability | |
Benefits
The convenience offered by this option's incredible shrinking ability is hard to overstate. It makes the playpen a lot easier to travel with and doesn't take up much room in storage.
Meanwhile, its versatility is another nice touch as users can utilize it indoors or outdoors. This benefit is a lot more useful than some other options might offer.
Its plastic bottom makes wiping up accidents a breeze, as well. You won't have to worry about the guinea pig pen being a stinky nuisance inside your home.
Last, don't overlook its enclosed construction. It'll keep our animals from venturing inside the playpen and messing with your piggy.
Drawbacks
The material does struggle a bit with determined chewers. If a guinea pig's known for being a nervous or aggressive chewer, it might not be the best choice.
Users could also account for this issue and line the playpen with a liner or other material. But again, it's an issue worth thinking about before putting money down on this one.
How it Compare to Others and Why
Its ability to fold completely flat stands out the most among its benefits. Moving around a guinea pig's playpen has never been easier than with this portable pet playpen.
Expert Tips
Use the pockets to hold " treats, nail clippers, and brush."
Check out these fun guinea pig exercises:
The Rypet Guinea Pig Pet Playpen manages to balance affordability and effectiveness.
After all, its breathable fabric design offers a comfortable, safe space for exercise time.
It even offers some style with its three color choices and is known for being durable.
Overall, it's a solid, unremarkable option for owners on a budget.
Physical Attributes
Durable polyester fabric
Plastic boundary nets
Three color choices (Pink, Blue, or Red)
Built-in reinforced steel wireframe
Foldable
Measurements
47″ x 15″ (9.4″ x 9.4″ folded)
10 square feet
| Benefits | Drawbacks |
| --- | --- |
| Affordable price | Waterproof issues |
| Well-ventilated fabric | Urine can go through the material |
| Opens automatically | Again, not chew-proof |
| Durable | |
| Easy to move | |
How it Compare to Others and Why
The affordable price and durable polyester fabric construction make it a bargain buyer's dream. Unfortunately, you don't often find a pet playpen that fits both of these categories.
Expert Tips
Minimize the waterproof issues by putting "towels down inside" to absorb pee.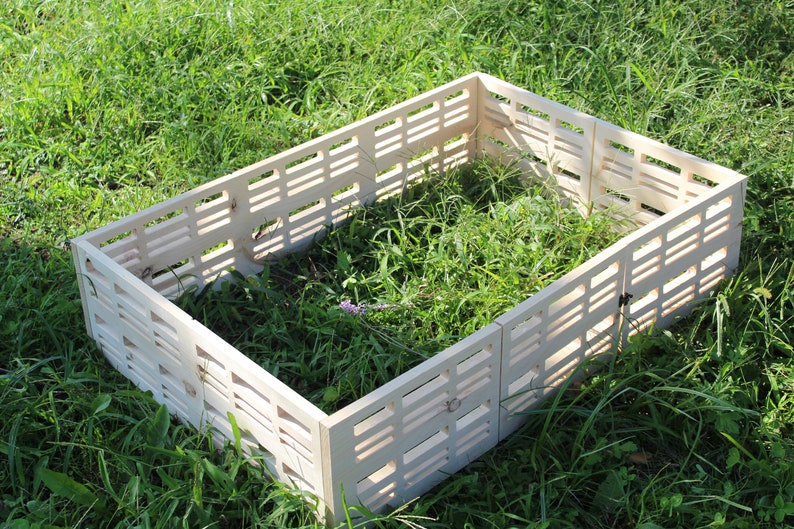 Our next option, GuineaHouse's Wooden Guinea Pig Fence Exercise Enclosure, is a beautiful art piece.
It'll brighten up your home's interior or be a pretty sight outdoors in the direct sunlight.
Your furry friend will love it, too, with its spacious exercise yard.
There's a lot to like about this GuineaHouse guinea pig playpen.
Physical Attributes
Handmade
Two styles (Lines and Rectangles)
Premium dried wood material
Fence enclosure design
Measurements
Two sizes (107 cm x 73 cm x 25 cm and 107 cm x 107 cm x 25 cm)
| Benefits | Drawbacks |
| --- | --- |
| Beautiful wood design | Most expensive option |
| Suitable indoor/outdoor playpen | Somewhat large for indoor use |
| Easy to assemble | |
| Durable construction | |
How it Compare to Others and Why
The beautiful wood design and easy assembly set this indoor/outdoor playpen apart. But its extra cost does the same as it will cost an arm and leg.
Expert Tips
Will need liners for indoor usage
Prevue Pet Products's Multi-Color Pet Playpen doesn't only stand out with its colorful design.
It allows users to customize their guinea pig pens with ease.
They can even attach it onto other sets to increase the play area over larger spaces.
Physical Attributes
Multi-color design
9-panel design
Pet-safe steel mesh panels
3/8 wire spacing
Measurements
| Benefits | Drawbacks |
| --- | --- |
| Easy to clean | No cover included |
| Capable of expanding with other sets | Some cavies managed to escape by pushing it up and crawling out |
| Durable steel mesh panels | |
| Top-tier customization | |
How it Compare to Others and Why
Customization is the main benefit offered by this model. Of course, it's always lovely when we can fiddle with a product until its meets our exact needs.
Expert Tips
Not recommend for unsupervised use as "the sides are rather low."
Setting up the ATPWONZ top guinea pig cage couldn't be much easier.
It has a built-in pop-out frame that ensures easy assembly, making it a hit among new owners.
Your guinea pig can then enjoy its clear 360-degree views.
They'll never lose sight of you again!
Physical Attributes
Polyester fabric
Built-in steel frame
Two-color choices (Blue and Pink)
Carrying bag included
Measurements
| Benefits | Drawbacks |
| --- | --- |
| Easy to wash | Determined guinea pigs can chew through it |
| 360-degree view | Some say it has an odd odor. |
| Lightweight construction | |
| Quick set up | |
How it Compare to Others and Why
The built-in frame and its pop-out capabilities are impressive top-tier features. But your guinea pigs will also love its 360-degree clean views. Plus, it being easy to clean doesn't hurt.
Expert Tip
Anyone who considers themselves a DIY person should find the Tespo Pet Playpen intriguing.
It allows you to customize the playpen into any shape or fit into any room.
Tespo also provides everything needed for the DIY project.
But you'll need to spend a little more on this Tespo Pet Playpen than others.
Physical Attributes
DIY design
12 translucent metal panels
30 Cable ties
12 Anti-slip mats
26 ABS connectors
One wooden hammer
Measurements
Maximum of 20 square feet
| Benefits | Drawbacks |
| --- | --- |
| Ultra-adaptable | Expensive for what it is |
| Easy to assemble/breakdown | Falls down if you don't use the zip ties |
| 360-degree views | The plastic shows every scratch and bite. |
| Usable with various animals | |
| Durable | |
How it Compare to Others and Why
The DIY aspect makes it highly adaptable to almost any environment. So your guinea pig won't ever find themselves in a room where this playpen can't fit.
Multi-pet owners should take a look at VavoPaw's Small Animals Playpen.
Its zippered cover will prevent other pets from accessing your guinea pig.
As a result, keeping them safe when your cat gets a little hunger.
Physical Attributes
Breathable mesh
Oxford fabric material
Fortified waterproof bottom
Zippered cover
Measurements
| Benefits | Drawbacks |
| --- | --- |
| Waterproof and easy to clean | Not for chewers |
| Affordable | Challenging to fold back up |
| Sizable play area | The netting is easily torn if your cavy's nails aren't kept trimmed. |
| Protective cover against other animals | |
| Great air circulation | |
How it Compare to Others and Why
Buyers will love its protective qualities and waterproof capabilities. Both these attributes make this animal playpen an excellent fit inside multi-pet households.
Expert Tips
Try putting a fleece blanket on the bottom to keep your guinea pig comfortable.
MidWest's Guinea Habitat Guinea Pig Cage will provide plenty of space for floor time.
Its 8 square feet offer more than enough room to get physical and mental stimulation.
Moreover, the PVC-lined canvas will make for quick cleaning with its leak-proof construction.
Those times when your guinea pig gets a little too excited won't seem as disastrous.
Physical Attributes
PVC lined canvas bottom
Built-in door
Steel construction
No divider panel included
White and teal color scheme
Measurements
47″ x 14″ x 27″
8 square feet of floor space
| Benefits | Drawbacks |
| --- | --- |
| Expandability | A little flimsy |
| Unlimited | The liner has an odd odor, some say |
| Leak-proof and easy to clean | It can get moldy if you don't really stay on top of cleaning. |
| 1-year warranty | |
| No-tool assembly | |
*NEVER move this playpen with cavies in it. Sadly, one reviewer stated that this resulted in tragedy.
How it Compare to Others and Why
This helpful playpen's leak-proof canvas bottom does make an owner's life a lot less messy. As a result, bathroom accidents no longer have to seem like the end of your world.
Expert Tips
Place it in a corner to help counteract the flimsy design.
How to Choose Exercise Pen for Guinea Pigs
Choosing the best guinea pig playpen will come down to several factors. Here's a quick look at some of them to make this buying process much more manageable:
Feet of Space
The entire point of buying an exercise pen for guinea pigs is providing ample space to run and play.
But you need to find a balance as too much space for pets can make them overwhelmed. It shouldn't go over double their cage's size, or your furry friend might not know what to do.
Simple to Clean
Owners will need to line their playpen with something to provide feet protection and absorb urine. There are some guinea pig playpens with mat options, which should be easy to wipe clean.
Portability
Most guinea pigs will greatly appreciate a change of scenery from time to time. As a result, your chosen playpen should be easy to move.
You may even want to move it outside when it's sunny out.
Safety
This guinea pig habitat enclosure needs to promote your furry friend's safety, as well. I'd advise getting a cover or top for multi-pet households.
It's an additional preventative measure to stop any issues from occurring and provide peace of mind.
Guinea Pig Exercise Pen FAQs
How do I exercise my guinea pig?
Investing in a solid exercise pen for guinea pigs and plenty of floor time is a good start on how to exercise a guinea pig. Offer them toys and incentives inside their cage is another easy way to get them a sufficient level of exercise.
How much exercise does a guinea pig need a day?
Guinea pigs should "enjoy 3-4 hours of free range playtime each day."
Conclusion
Our discussions about guinea pig exercise pens should've made this buying process much easier. But if you have more questions, please let me know in our comment section. Thanks for reading!
Final Recommendation
References
"Do Guinea Pigs Prefer Their Cage Arrangement to Stay the Same or for It to Change Every Day?" n.d. The Guinea Pig Forum. Accessed July 28, 2021. https://www.theguineapigforum.co.uk/threads/do-guinea-pigs-prefer-their-cage-arrangement-to-stay-the-same-or-for-it-to-change-every-day.183450/.
"Exercise Ideas for Guinea Pigs." n.d. Bothellfeedcenter.com. Accessed July 28, 2021. https://bothellfeedcenter.com/blog/48723/exercise-ideas-for-guinea-pigs.
Which is your favorite guinea pig exercise pen? Please share with us below!
Ben Roberts
My name is Ben Roberts, and I absolutely love animals. So, naturally, I love writing about them too! As far as my animals, I have a Pit-bull, a Beagle-lab mix, a Chihuahua, and one old cat. Each one of them provides me with a new adventure every day. And the best part is they're all best friends. Well, except the cat when he gets a little annoyed.
FIND HIM ON: FACEBOOK and TWITTER.
Read his latest ARTICLES
Learn more about Benhere