Are you looking for some sugar glider cage vines to spruce up your pets' cages? Dr. Robert Ness says gliders need perching areas in their cages to continue their climbing behavior (1).
And that's why any owner worth their salt should have cage vines for their gliders. But many don't know which cage vines are best.
If you're such, then today's your lucky day. I have reviewed the best cage vines to make it easier to choose one.
Join me as I review the best five cage vines.
This post contains affiliate links. We earn a commission if you make a purchase after clicking on our links.
Don't have time? Check this comparison table of our top faves!
Top Cage Vines for Sugar Gliders at a Glance
Table could not be displayed.
5 Best Sugar Gliders Cage Vines [Review]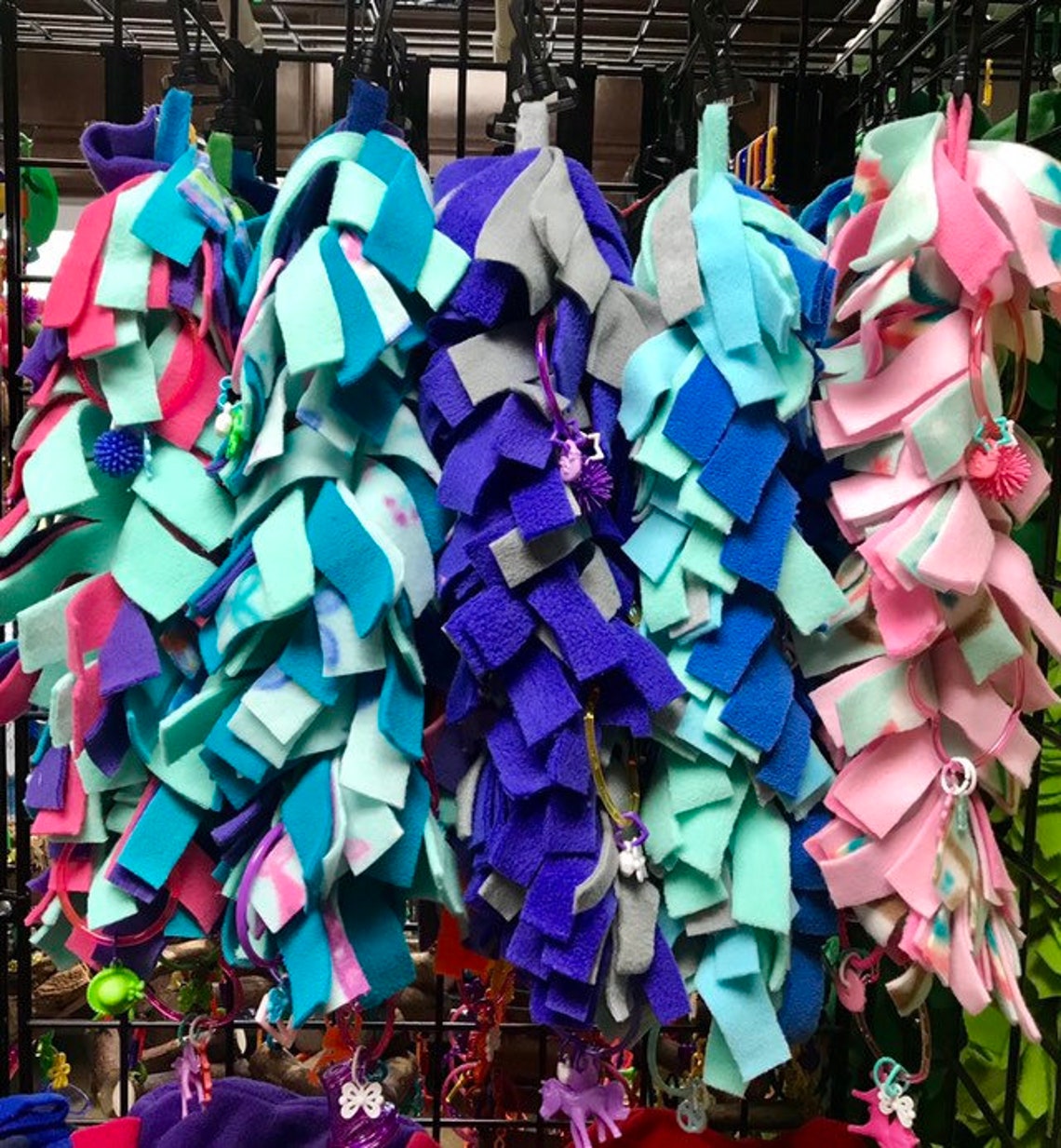 The charming ring sugar glider vines are my top pick for the creative accessories they have. I'm talking of bracelet rings and special hidden charms the other options don't offer.
It is also available in different colors and will last longer than most real plants. It is easy to install onto the cage, and you can remove it and is handmade with the best quality material.
All you have to do is hang it on the upper cage bars. These frilly fleece strips enable your little shuggies to snuggle inside them as they play and swing around.
These cage toys also come with hidden charms within the frilly pieces that your critters can look for as they play.
The vines are held with sturdy hooks akin to a plastic chain. So you don't have to worry about any accidental falls.
Add bracelet rings to that, and you have yourself a near-natural cage. Such a cage can even fasten the bonding process, especially in addition to a bonding pouch.
Features and Attributes
Versatile
Made from critter-safe material
Soft, frilly, and fleece-like swing vines
Sturdy hooks for attachment
Benefits & Drawbacks of Charming Ring Sugar Glider Vines
| Benefits | Drawbacks |
| --- | --- |
| The bracelet rings make it an excellent cage decor option | It needs regular cleaning since it gets dirty fast |
| You can use it for other small animals such as flying squirrels and hedgehogs | |
| The sturdy attachment hooks prevent accidental falls | |
| It comes with multiple accessories such as the hidden charms | |
How it Compares to Others
These vines have more accessories than all the other products on our list. Unique hidden charms, attachment hooks, and bracelet rings make it stand high above the other products.
Check out how cool this cage looks with the vines.
Expert Tips
The charming ring vines have different hanging toy cage accessories such as bracelets. But for the best use, combine it with common glider toys to make it better for your little marsupials.
These soft and fluffy vines will rekindle the playful nature of your shuggies. They are the best if you want to encourage your furry friends to climb and exercise.
These hanging cage toys are bouncy and waggly, making them a joy for gliders who love to bounce in cages. This waggly nature allows critters to jump on them and pinch some rides.
The vines will still come in handy if you have other small pets, such as rats or hamsters.
Although the attachment hooks are waggly, they are sturdy to prevent falling off. The soft material they are made from is also easy to clean and will offer you good value.
Your critters will also love the snuggly nature of the toy. They might even be the pets' best bet for glider couple bonding treats.
Features and Attributes
Small Soft, full, and fluffy, frilly material
Sturdy
Sugar glider safe material
Have Leaf-like crevices
Measurements
10 inches long
12.01 x 9.33 x 2.32 inches
Benefits & Drawbacks of Tinkare Glider Climbing Vines
| Benefits | Drawbacks |
| --- | --- |
| The material is relatively easy to clean | Tend to get smelly if not washed regularly |
| It offers good value for money | |
| Durable since its sturdy | |
| Soft material to boost glider safety | |
Expert Tips
Have a fixed time interval after which you wash the vines since the gliders will mark and make them smelly. According to Dr. Dayna Willems of the Aurora Animal Hospital, the best interval is one or two weeks (2).
How it Compares to Others
The frilly pieces are small and don't have the leaf-like structure of the Charming Ring Sugar Glider vines. It's harder to convert it into a hammock bed.
Get it With: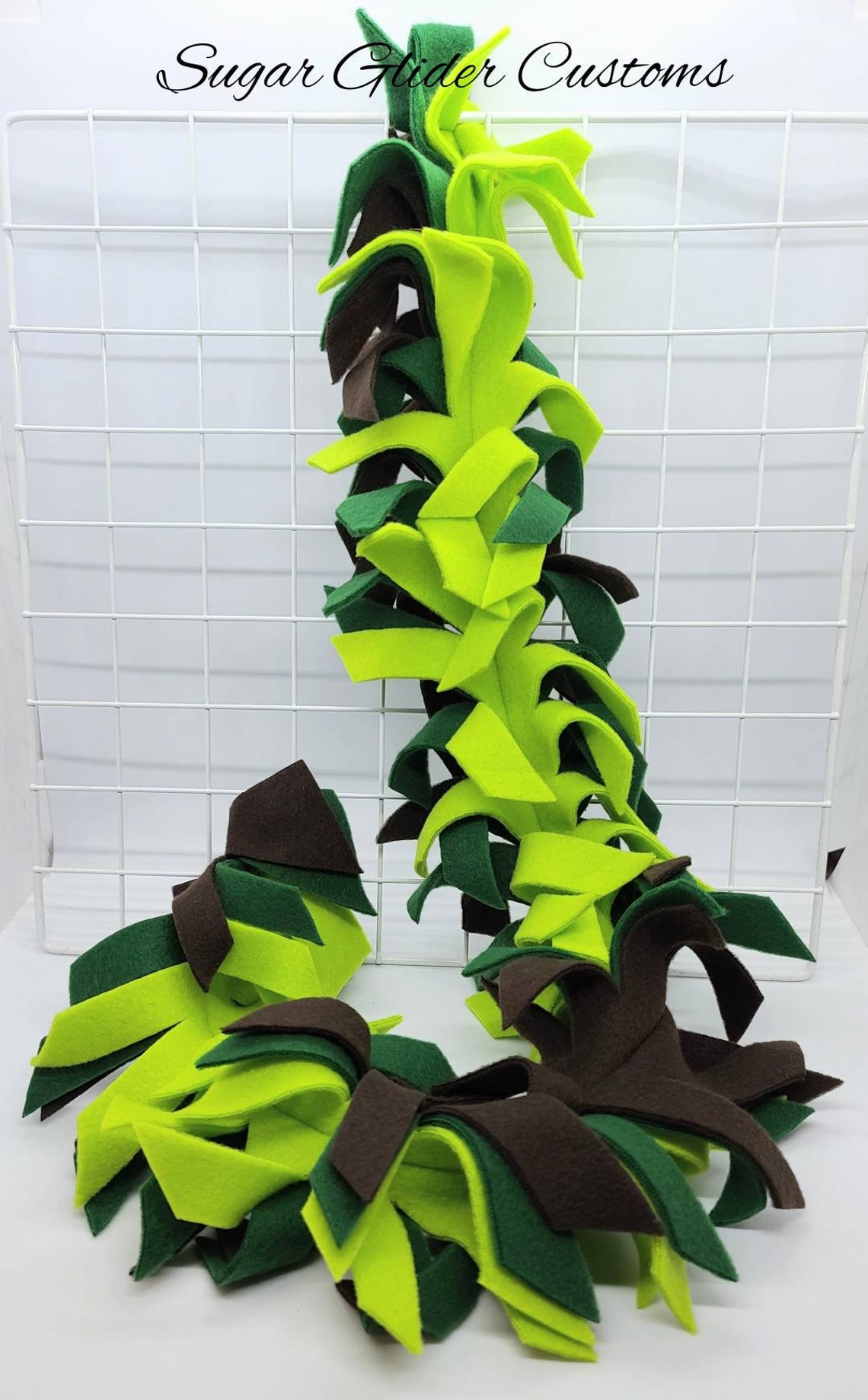 The standout feature of these vines is the tight stitching at the seams that greatly boosts their durability. Besides that, the vines are handmade allowing for more detail to go into fostering their strength.
Anti-pill fleece materials make excellent vines for sugar gliders, ferrets, and hamsters. These jungle vines are perfect for your gliders to relax their smooth muscles after running in the cage all night.
These hanging toy cage accessories offer your pets a comfortable place to play and relax.
You can also modify them into cage hammock beds for your gliders to relax as they sleep.
Attributes and Features
Handmade anti-pill fleece
Sugar glider safe material
Measurements: 3 Layers of 28-inch vines
Benefits & Drawbacks of Sugar Glider Jungle Vines
| Benefits | Drawbacks |
| --- | --- |
| Steady to enhance cage set safety | Returns and exchanges aren't accepted once you buy |
| Machine washable material | |
| Easy to clean | |
| Soft, snuggly, and ideal for most small animals | |
| Excellent quality material | |
Expert Tips
Remember to use mild detergents when washing with a laundry machine. They are soft and harsh detergents might ruin them.
How it Compares to Others
Three-layered leaf-like structures make it a bit more comfortable than the other options.
TRY READING: How Big Does a Sugar Glider Cage Need to Be?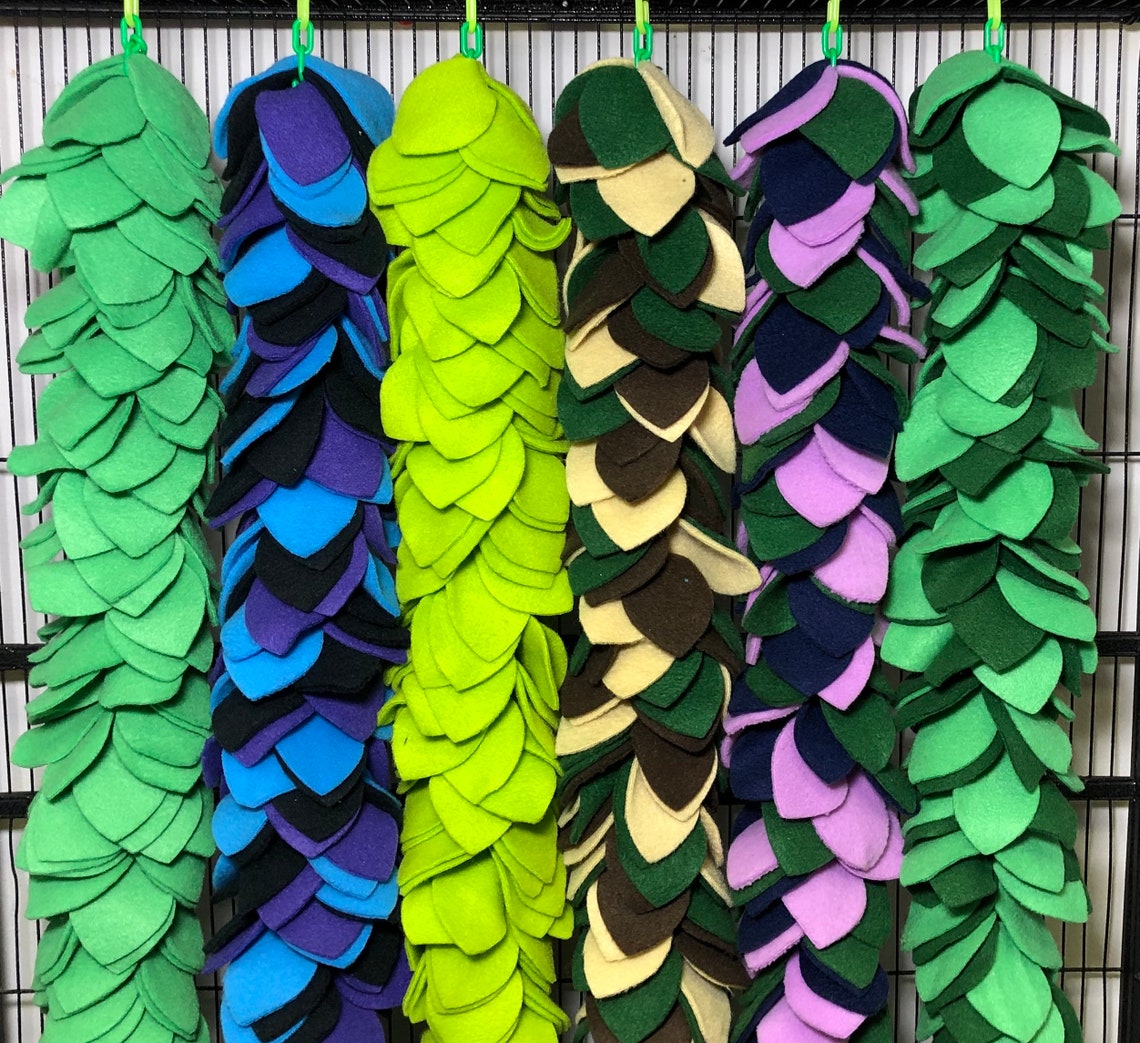 I love these vines because you can get them customized to your taste. The customization goes as far as the color and the size of the vines.
They also come with c-clips that allow you to change the attachment style on the cage bars, even if you have a small sugar glider cage.
Thanks to the leaflike pill fleece, you can easily mimic a glider's natural habitat. These leaf vines are handmade, making them high quality and safe for your pets.
The careful stitching boosts durability while enabling your gliders to swing on these hanging toy cage accessories as they wish.
Features and Attributes
Handmade with fleece material
It comes with adjustment clips
Plastic chains for toy attachment
48 inches long
Benefits & Drawbacks of Sugar Glider Toyland Reset Fleece Leaf Vine
| Benefits | Drawbacks |
| --- | --- |
| Handmade with the best quality stitching | It is quite expensive |
| Fluffy, soft, and full to protect against injuries for gliders | |
| Versatile and can work for other small pets | |
| Easy to clean since its machine washable | |
Expert Tips
Although machine washable, always use fragrance-free detergents when washing.
How It Compares to Others
It comes with plastic chains that allow you to get as creative as possible with cage decorations.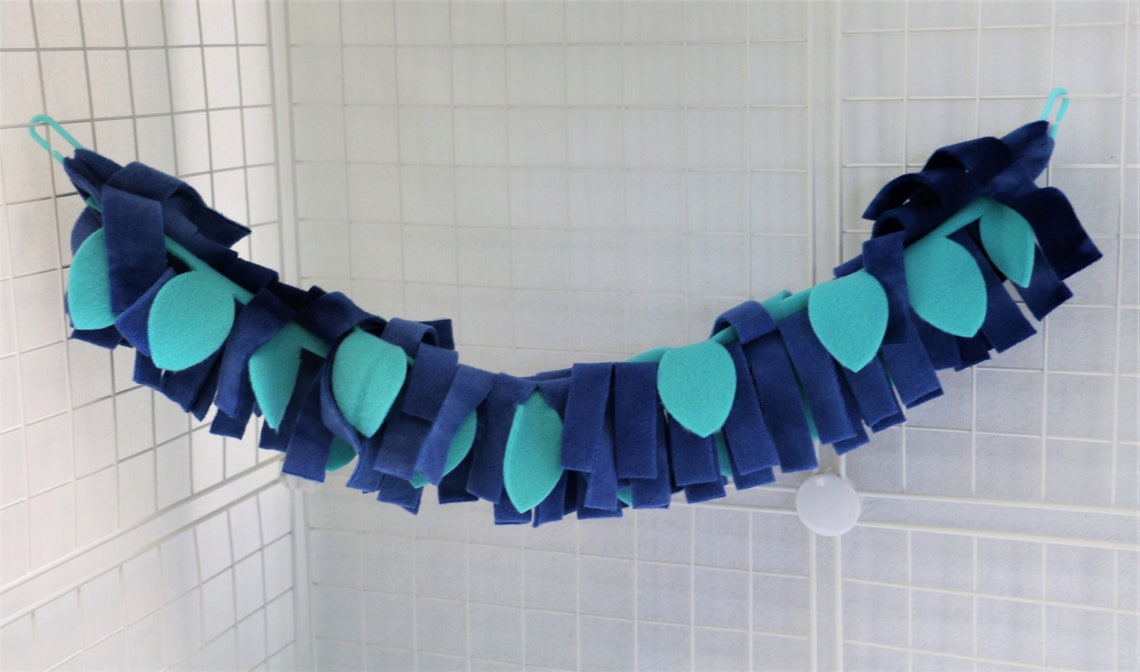 If you're on a budget then you'd do well to consider these fringe vines.
The material used is anti-pill fleece safe for critters and other small animals. When buying, you can request to have them deliver a specific fabric and size. The vines are about 21.5 by 6 inches.
Although the safety of each vine you buy will vary, these are made with glider-safe material. In the handmaking process, one of the factors they consider is the softness to protect your glider's body.
Features and Attributes
Anti-pill and blizzard fleece material
Handmade
Custom Made Colors and Sizes
Benefits & Drawbacks of Sugar Glider Fringe Vine
| Benefits | Drawbacks |
| --- | --- |
| Wide range of beautiful colors to pick from | Gliders with long nails can tear them to pieces |
| Glider safe blizzard fleece material | |
| Affordable | |
| Better than cheap plastic vines | |
Expert Tips
Consider buying the c-links and leaf fringes to make these vines even better.
How it Compares to others
This is by far the cheapest option on our list. If you're running tight on cash, consider these vines. The shipping costs might bump up the price a little bit, though.
Here is how you can DIY a sugar glider vine.
How To Choose The Best Vines For Sugar Gliders Cage?
Your pets need their new environment to mimic their natural habitats as much as possible. one of the best ways is to add hanging vines.
While you can find sugar glider cage room ideas from the many cage set tutorials, how do you choose the best hanging vines?
Here is what to consider.
#1 Glider Safe Material
Gliders are pretty delicate pets and can be sensitive to different materials (3). You can't get any vine into their cages lest it harms them.
#2 The Ideal Size
Dr. Robert Ness, an exotic pet vet, says sugar gliders need large cages with enough perching areas.
I don't know how large a cage you have for your pets, but you'll have to consider the size of the vine before purchase.
#3 Ease of Cleaning
The sanitation levels need to be high when handling the little marsupials. So the hanging vines you buy should be easy to clean since shuggies will make them dirty fast!
Consider going only for machine washable fabrics when buying the vines.
#4 Sturdiness
You purchase the hanging vines so your sugar babies can play and swing on them. Thus they need to be as sturdy as possible to avoid accidental falls.
Gliders being the small animals they are means a fall even inside their cages could be fatal.
#5 Value for Money
How do you know you are getting good value for your money? By comparing the cost of the vines with the quality, you will get.
A faster way is to look at the vine's ratings. Customers' ratings are one of the quickest ways to tell if a product is worth the money.
#6 Plant Vines vs. Fake Plants
A wide range of plants is ideal for use in glider cages as vines.
According to the Pocket pet website, Calendula species, Alyce clover, Allium cepa, B. Alternifolia, garden violet, and garden burnet are ideal plants to use as cage vines.
However, plants such as Allium ascalonicum and Aesculus Hippocastanum are toxic. Since it can be difficult to tell which plant isn't harmful, most people opt for fake plants.
FAQs
What do sugar gliders like in their cage?
According to Dr. Robert Ness, gliders love it when they have climbing structures in their cages. Climbing structures encourage the critters' natural climbing and playful behavior.
Can I put plants in my sugar glider cage?
Yes, you can. But you need to be careful lest you put a poisonous plant in the glider cage. Angelica Archangelica, china rose, rose mallow, or any plants of the basil variety are ideal sugar glider cage plants.
Conclusion
There are various options you can consider for sugar glider cage vines. You could go the real plant way, but it's often difficult to know which plant species is harmful to gliders.
I think you're better off going with leaf-like fleece materials for hanging vines made from glider-safe material. They will last longer.
What vines do you use for your gliders' cages? Please share them in the comments.
Resources
1. Themes UFO. Sugar Gliders. Veterian Key. Published September 6, 2016. https://veteriankey.com/sugar-gliders-2/
2. Willems D. Sugar Glider Care. static1.squarespace. Accessed May 20, 2022. https://static1.squarespace.com/static/5706bdd507eaa0b8239942b7/t/608758a4d1d63b653fa9aa86/1619482788449/SugarGliderCaresheetAuroraAnimalHospital.pdf
3. Cure S. Think twice before purchasing sugar gliders for the holidays. al. Published December 13, 2010. Accessed May 20, 2022. https://www.al.com/entertainment-times/2010/12/think_twice_before_purchasing.html
Alina Hartley
Alina Hartley is a small-town girl with a ginormous love of bearded dragons. It all started with Winchester, a baby bearded who was abandoned at the shelter by his former owners because of a birth defect that caused one front leg to be shorter than the other. Alina originally went to the shelter looking for a guinea pig, but one look at Winchester and it was love at first sight. From that day on, Alina has dedicated her life to learning everything she can about bearded dragons. She loves helping new beardie parents start their incredible journey with these magnificent reptiles.
Follow her on:
LINKEDIN
TWITTER.
Read her latest articles HERE
Learn more about her HERE.