A great rabbit hutch will allow your rabbit to get outside and have some exercise [3] while still being protected.
You do not want your rabbit running off and getting into trouble, and you do not want predators getting to your pet (and there are a lot about it).
The perfect rabbit hutch will allow your rabbit the fresh air they deserve while making them feel safe.
A summer's day can be made complete with the addition of a rabbit to your yard. Let's take a look at some of the best rabbit hutches for your furry little friend.
This post contains affiliate links, and I will be compensated if you make a purchase after clicking on my links.
Top Rabbit Hutches at a Glance
Don't have time? Here is a quick comparison of our favorites!
Check: Rabbit Pen Top Favorites
Our Top 7 Favorite Rabbit Hutches (Review)
One look at this hutch, and you will fall in love with it. You can see instantly that the construction is solid and durable, from the furniture-grade wood to the heavy-duty wire.
The wood is treated to protect it from moisture and fungus. If you leave the hutch out in the rain, you do not need to worry about it becoming damaged.
The heavy-duty wire is almost impossible for any predator to get through, so you can rest easy knowing that your bunny is protected should you leave them outside alone.
When you buy this hutch, you are getting a lot of space. You have enough room for one bunny to run around freely or for multiple bunnies to run around together.
The bunnies [1] can move from one level to another with the split-level design. The wooden edges are not only treated for protection but are sanded too to protect your pet.
We like the addition of an asphalt roof to protect the bunny further below. This hutch has a level of construction that would rival some regular homes.
The only thing we do not like is the cleaning. Due to the solid construction and design, it is harder to get in there and clean due to fewer entry points (and less weak points).
We are happy with the trade, though. Bunny safety [2] is our main concern, and you can still clean the hutch.
Benefits & Drawbacks of Ogrmar Chicken Coop Large Wooden Outdoor Bunny Rabbit Hutch
Key Features
62" x 24" x 29"
Suitable for more than only rabbits
Safe and secure
Waterproof furniture-grade wood
Lots of space to run around
Double-level
| Benefits | Drawbacks |
| --- | --- |
| Anti-fungal finish | Can be difficult to clean |
| Light and easy to move | |
| Solid construction | |
| Heavy-duty steel wire for protection | |
| Protection from predators | |
Ogrmar Chicken Coop Large Wooden Outdoor Bunny Rabbit Hutch Hen Cage with Ventilation Door, Removable Tray & Ramp Garden Backyard Pet House Chicken Nesting Box
【Raised Perches & Comfortable for Poultry】The raised perch keeps your poultry safe, dry and warm, especially in the rainy cold days. It's also handy in the heat as they are shielded from the sun and can easily access their nesting boxes without exposure to the harsh light.
【Spacious Space & User-friendly Design】58" chicken coop comes with nesting box, resting box and ramp. Your poultry can lay their eggs in the nesting box. There is sliding door and ramp allows poultry to easily enter the raised housing area. There are timber ridges above the ramp to protects your poultry from slipping back. With the design of gridding door you can watch your pets without disturbing.
【Removable tray & Gridding Fences】There is removable bottom sliding tray for easy cleaning. High quality gridding fences provide a healthy poultry lifestyle. With the pitched roof your poultry can run outside even in rainy days. The fences are vital to the ventilation of poultry, they will also protect your poultry from the outside predators.
【Shipping & Customer Service】UPS or USPS will deliver the item to your house in 3-6 business days after you placed an order. We packed item as good as we can, if there is any damaged part, please contact us first and offer us pictures of damaged part, we will solve the problem as the way you want(discount or replacement).
【Sturdy Construction & Weatherproof】Constructed by premium natural fir wood and painted with eco-friendly waterproof non-toxic varnish. The original wood is firm and natural for your beloved pet. Thanks to the eco-friendly paint, the cage is waterproof, anti-corrosion and also UV-resistant, which offers long-lasting lifespan to provide a warm house for pet all the time.
We like the look of this hutch. The rich-stained wood has a luxurious finish that other hutches do not have. It would look fantastic in any yard.
On top of that, there is a lot of functionality that a bunny owner will appreciate. There are two levels in this hutch, an outdoor and an indoor.
We like that there is a non-slip ramp from one area to the next, protecting your bunny from any slips, and a door that can close off one area from the other.
If the weather starts to change and you want to stay outside, you can keep your bunny in the indoor area. The multiple access points make this an easy hutch to clean.
There is a large door on the top of the outside run, small doors on the front of the indoor area, and the roof of the indoor area also lifts for access. Your bunny will love to run around in this hutch all day.
Key Features
47" x 23" x 20"
Easy to put together and attach
Two-level split
Door to the second level can be closed
Can hold multiple rabbits
Benefits & Drawbacks of TRIXIE Rabbit Hutch with Outdoor Run
| Benefits | Drawbacks |
| --- | --- |
| Non-slip ramp | Smaller than other hutches |
| Heavy-duty construction | |
| Protects from the elements | |
| Heavy-duty wire | |
| Looks great | |
This amazing hutch will protect your animal and is extremely easy to clean. Your bunny has two levels stacked on top of each other, forming an enclosure with two cages stacked.
There is a sturdy wooden ramp leading from one to the other, and you can close off this route if you want to separate bunnies, protect your bunny from the elements, or clean half of the hutch.
When it does come time to clean it out, you will never have it easier. The entire front of both levels slides away to give you access, along with the roof hinging upwards for further access.
Combine that access with a removable litter tray, and you have a hutch that can be cleaned in minutes without even removing the bunny.
The hutch is also solid and well-constructed. The wood is screwed together well, and the heavy-duty wire will keep your rabbit in a while, keeping predators out.
There is a lot of ventilation so your bunny can enjoy the sun and a nice warm breeze.
Key Features
47" x 40" x 20"
Easy to access
Twin-level
Raised perches keep bunnies warm and dry
Floor grids can be removed for cleaning
Easy to clean
Benefits & Drawbacks of Lovupet Rabbit Hutch Cage
| Benefits | Drawbacks |
| --- | --- |
| Sturdy construction | Expensive |
| Hinged roof | |
| Fir wood | |
| Heavy-duty wire | |
| Waterproof | |
Lovupet Rabbit Hutch Cage with Pull Out Tray, 2 Story Indoor Outdoor Wooden Bunny Cage, Rabbit House with Run Ramp for Guinea, Habitat, Small Animals Pets, 1029
Easy to Assemble: Depending on the simple structure design and accurate drilling, you can assemble the hutch for around 30 minutes on your own. (All Tools and Instructions are Included.)
Perfect Size: Regarding the size of hutch, you are not only to consider if it fits your little pet but also fits your space. We take both into consideration and make a perfect size for your pet. Check the dimension image for more details. (47.2"x 19.6"x 40.4")
Separate Areas Design: The rabbit hutch comes with a lounge and playroom. One side of the enclosed hutch is designed for privacy and rest while the other offers a more open style built for play. The bunny can flexibly sprint up and down through the anti-slip and low steepness ramp, convertible bottom door allows tiny pets to come in as an assistance ramp.
About Kitty Safety You Care: 1) Wire Doors and openable roof make this rabbit hutch to be a well-ventilated home, benefits the rabbit growth. 2) Two plastic trays were built in this rabbit hutch for both bottom and upper levels, bunny feet will be protected better than using wire floors
About Cleaning You Care:1) The Trap door can completely separate the upstairs from the downstairs so that you can clean each floor easily without the bothering of your bunny. 2) There is a plastic tray built under each floor ans you can pull them out and give a rinse
This hutch has enough space for multiple bunnies with two levels to run around in.
If you want to separate the bunnies or move a bunny to a certain area for cleaning, you can lock the door between the levels to keep a bunny in or out.
When it comes time to clean, both levels can be got at through their door, and you also have the luxury of a removable litter tray.
Pull it out, dump it, clean it, and you are good to go again (or your bunny is, at least).
There is a non-slip ramp between the two levels, so your bunny can easily navigate, even if there is some moisture in the air.
Your bunny will also appreciate the wide and sturdy metal bars. Wide enough to let the airflow and an uninterrupted view while being narrow enough to keep out all predators.
Key Features
44" x 36" x 16"
Lots of space
Can be used for more than just rabbits
Two levels
Easy to clean
Removable litter tray for cleaning
Benefits & Drawbacks of Kinsuite 44″ Rabbit Hutch Bunny Cage
| Benefits | Drawbacks |
| --- | --- |
| Heavy-duty wire | Litter tray is thin but works |
| Solid construction | |
| Durable and waterproof | |
| Lockable doors between levels | |
| Non-toxic finish | |
Kinsuite 44" Rabbit Hutch Bunny Cage Wood House 2 Floors Chicken Coop Hen Cage House Pet Hutch for Indoor Outdoor Garden Backyard
✔【WIRE FENCING】With the design of wire grid ensures you monitoring of the pets and helps to protect your animals from unexpected accidents. The fencing is vital to the ventilation of pets, your pet can breathe freely and get enough fresh air with wire fencing design.
✔【CAPACIOUS SPACE&SPECIAL DESIGN】Large as it is, the rabbit hutch provides plenty of exercise space for your pets. Contains a sliding ramp, with this special design, allowing pets to enter the raised housing area.
✔【COZY SLEEPING AREA FOR ANIMAL】The pet cage is suitable for small animals, great for rabbits, Chicken and other pets. It keeps your small animals safe, comfortable and warm. With the cozy sleeping area, your pets will love it!
✔【CLEANS EASILY】An easy-to-clean removable sliding pan and strategically placed doors allow for quick cleaning throughout the rest of the unit.
✔【DURABLE CONSTRUCTION】This sturdy animal cage is constructed of a solid wood that will keep your animals safely. If there are any problems about our products, please contact us immediately, our customer service will solve the problem asap.
This is a solid bunny hutch. The wood is thick and robust, with cedar planks or durable wire filling the gaps. Your bunny will love to run from inside to outside and enjoy all the outdoor world has to offer.
The roof is sloped, and the wood is treated to give your bunny a waterproof experience, and the manufacturers are so sure that their product will last that they will replace it if it does start to leak.
A great addition to your yard if you live in more humid climates and still want to take your bunny outdoors. The hutch comes with a removable litter tray, and this tray has increased in depth from previous models.
The tray now catches more waste than before while still easy to remove and clean.
The fact that this indoor rabbit cage is elevated also means that your rabbit will be kept clean and dry — a perfect hutch for changing climates.
Key Features
38" x 20" x 34"
Amazing look and design
Elevated from the ground
Indoor and outdoor areas
Can be used for other pets
Tall and ventilated
Benefits & Drawbacks of Petsfit Rabbit Hutch Indoor Bunny Cage
| Benefits | Drawbacks |
| --- | --- |
| Heavy-duty metal bars | Smaller than other hutches |
| Solid construction | |
| Non-toxic finish | |
| Easy to assemble | |
| Cedar wood | |
Petsfit Rabbit Hutch Indoor Guinea Pig Cages Bunny Cage with Pull Out Tray, Bunny Guinea Pig Cage Hutch Outdoor
Spacious Space: 38L x 19.5W x 34H inches. Great for 1-2 rabbits and similar-sized pets such as guinea pig, hamster and ferret, providing more room for pets to maneuver with no weight limit.
Thoughtful Design: Easy to assemble for minutes with pre-drilled holes. Deeper plastic pull-out tray with no leakage at the bottom is handy for cleaning up. Roof on the enclosed side can stay up on gas strut hinge, and the floor boards here are removable to clean with ease.
Sturdy to Use: 100% made of Finnish spruce panels, thicker than others ensures good sturdiness to use. Hutch is designed for indoor use but can be varnished for outdoor wear as well if have to.
Tips for Use: A litter box with hay would be recommended if he/she has been well trained. If not, suitable litter, recycled newspapers, puppy pads or fleece mat on the bottom would be good choice to clean up. For boredom chewers, providing them some wood sticks, newspaper or fresh vegetables on a regular basis.
More Care for Bunnies: It is harmful to rabbits feet when standing on wire mesh floor for long time. What's more, allow the bunny increasing amounts of time out of its cage, under supervision. It is recommended that rabbits NOT be kept outdoors when temperature is above 85-90 degrees in case of heat stroke.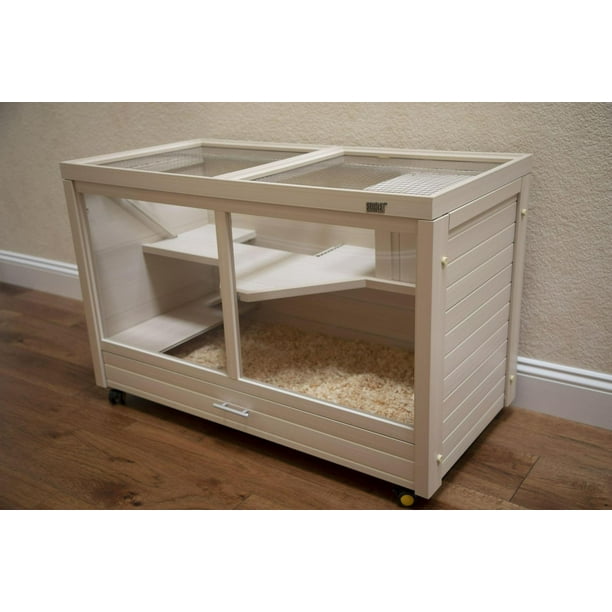 This is as durable a rabbit hutch as you will get. The fir wood is solid and finished with waterproof paint, which is non-toxic to your bunny and will keep the water out.
The green asphalt roof further protects your bunny in the indoor area. Great for protection against moisture and sunlight.
When your bunny wants a little air, they can step outside and enjoy the openness of the metal bars, which will protect against any predators trying to get in.
If you want to clean the inside, you can lock the door and get in through the roof. A removable litter tray will catch the waste and save you from any messy cleanups.
The hutch is raised to protect against the cold, perfect for cooler climates. If you live in a wet area, this can benefit your bunny's health by keeping them away from any moisture.
Key Features
38" x 20" x 34"
Sloped asphalt roof
Indoor and outdoor area
Areas can be separated by a locking door
Easy to clean and refill food
Raised perches keep your rabbit dry
Benefits & Drawbacks of Petpark Rabbit Hutch
| Benefits | Drawbacks |
| --- | --- |
| Durable and waterproof | Only one level |
| Non-toxic finish | Expensive |
| Protects against sunlight | |
| Hinged roof | |
| Elevated from the ground | |
Any rabbit hutch which comes with free accessories is alright with us. This one comes with a feeder, so you will have somewhere to put your rabbit's hay and another chew toy.
Not only will the chew toy help to promote dental health [4], but it will also stop your rabbit from damaging anything else. It's a win-win situation. This is a rabbit hutch that you can use indoors or out.
It is a high-quality rabbit enclosure that features solid fir wood, powder-coated wire, and durable fixtures. A lot of detail has gone into constructing this hutch for both your rabbit and you.
The wires are extra-thick, keeping your animal safe, and the corners are rounded to protect your hands. Plastic feet on the bottom also protect your floor if you have them indoors.
A grade bunny hutch which looks great too.
Key Features
36" x 22" x 30"
Raised floor for the protection
Natural fir wood
Can be used indoors and out
Chew toy helps protect teeth
Tall and ventilated
Benefits & Drawbacks of Aivituvin 44.2-in Indoor & Outdoor Rabbit Hutch
| Benefits | Drawbacks |
| --- | --- |
| Heavy-duty metal bars | Can be difficult to get into the litter box |
| Solid construction | |
| Non-toxic finish | |
| Comes with feeder | |
| Bonus chew toy included | |
What is your favorite hutch from the above list to buy for your bunny? Please share with us below!
Resources
1. The Complete Guide to Rabbits [Internet]. www.petmd.com. Available from: https://www.petmd.com/rabbit/general-health/complete-guide-rabbits
2. Varga M. Rabbit Basic Science. Textbook of Rabbit Medicine [Internet]. 2014;3–108. Available from: https://www.ncbi.nlm.nih.gov/pmc/articles/PMC7158370/
3. Lozano WM, Parra G, Arias-Mutis OJ, Zarzoso M. Exercise Training Protocols in Rabbits Applied in Cardiovascular Research. Animals. 2020;10:1263.
4. Rabbit Dental Care 101 [Internet]. www.petmd.com. Available from: https://www.petmd.com/rabbit/general-health/rabbit-dental-care-101
Ben Roberts
My name is Ben Roberts, and I absolutely love animals. So, naturally, I love writing about them too! As far as my animals, I have a Pit-bull, a Beagle-lab mix, a Chihuahua, and one old cat. Each one of them provides me with a new adventure every day. And the best part is they're all best friends. Well, except the cat when he gets a little annoyed.
FIND HIM ON: FACEBOOK and TWITTER.
Read his latest ARTICLES
Learn more about Benhere