One of the most important decisions you will have to make for a pet rabbit owner is choosing the cage or hutch for your bunny.
While this may sound like a simple choice on the surface, your rabbit's comfort and safety depend on this decision, and, ultimately, a good cage or hutch is a solid foundation for a lasting bond between you and your pet rabbit.
So, with that in mind, let's take a look at some of the best rabbit cages and hutches on the market.
This post contains affiliate links, and I will be compensated if you make a purchase after clicking on my links.
Top Rabbit Cages and Hutches at a Glance
Don't have time? Here is a quick comparison of our favorites!
Top 10 Favorite Cages and Hutches for Rabbits – Buying Guide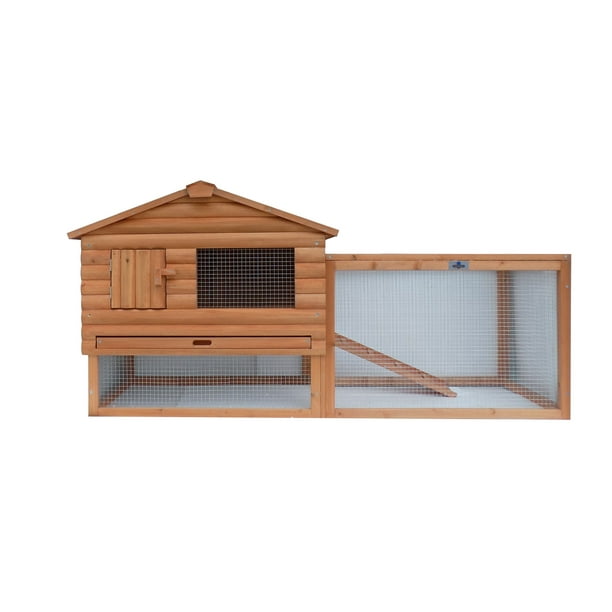 The first item on our list is a beautiful wooden hutch [1] with an impressive length of 62 inches.
The size alone is enough to get you interested in this rabbit hutch, but that is not all.
In addition to ample space where your furry friends can play, Confidence Pet Rabbit Hutch comes with two levels and a ramp that connects them.
The hutch design is stylish, with wooden edges to give it a sophisticated look.
The hutch is made of furniture-grade wood and has a waterproof coating with antifungal properties. That means that this hutch has the quality to sustain harsh weather conditions.
While it is mainly designed for outdoor use, if you have enough space, you can keep it indoors as well.
However, the asphalt roof that protects it from the elements clearly shows that this hutch is supposed to be used outdoors.
Heavy-duty steel wires that surround the hutch guarantee safety for your rabbit, along with wooden latches you can use to lock the hutch.
Cage Highlights
Spacious, 62-inches hutch
Made of furniture-grade wood and heavy-duty steel
Two levels
Beautiful design
ALSO READ: Why a Rabbit Hutch Might be the Best Choice for You?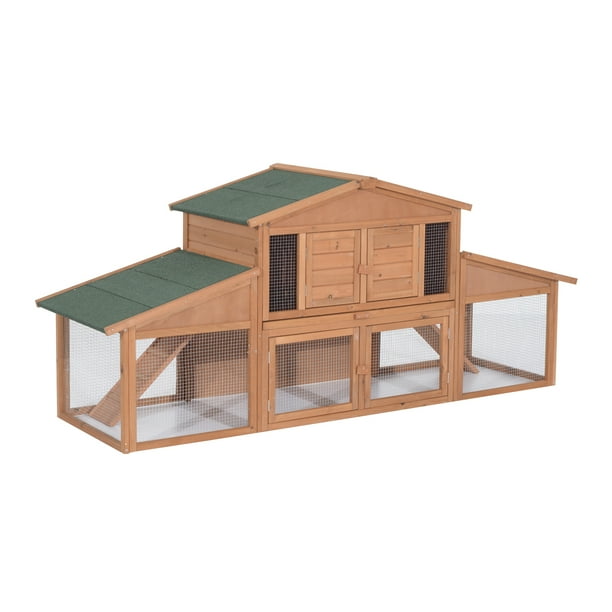 This is another outdoor rabbit hutch we like.
It is even larger than the previous entry on our list because it is 91 inches long, which is more than enough room for multiple rabbits and accessories to keep the rabbits entertained.
This hutch comes with two levels.
On the upper level, you can find a house for our bunnies, while the lower level provides space for the litter box and other accessories, as well as a running area.
The hutch is covered with a durable wire mesh to provide safety for your rabbit.
There are two access doors on this hutch that allow you to have access both to the upper and lower level.
Levels are also connected with multiple ramps so your bunny can quickly go from the open running area to the house.
The hutch is well-designed and looks like a small, cozy home. It is suitable for rabbits, but it can also be used as a chicken coop.
Cage Highlights
91 inches long
Two levels
Can house multiple rabbits
Two access doors
Stylish design
This is one of the best indoor rabbit cages you can find on the market. It comes with plenty of open space since it is 55 inches long.
This includes a small, wooden house with a sleeping extension where your rabbits can nest and sleep.
This cage comes fully disassembled, so you will have to assemble it independently. However, that can also be a great plus since it is entirely portable.
You can disassemble it and take it with you wherever you want before assembling it again. Besides, most of the hutches require assembling anyway.
The design of this cage may not be the most beautiful out there, although the small wooden house does look nice.
However, the design is efficient because it allows easy access thanks to the wide front door that otherwise serves as a cage wall.
You will also receive a drinking bottle and hay feeder if you decide to get this cage.
Cage Highlights
55 inches long
Portable
Easy access due to the wide front door
Comes with a sleeping extension
Comes with a drinking bottle and hay feeder
Krolik Extra-Large Rabbit Cage w/ Wood Hutch Extension Rabbit Cage Includes All Accessories and Measures 55.9L x 23.62W x 19.68H and Includes ALL Accessories
Perfect Rabbit Cage Starter Kit w/ Wood Hutch Extension | Rabbit cage includes large water bottle, feeding bowl, hay feeder, elevated feeding area ideal for rabbits, guinea pigs or chinchillas
Extra-Extra-Large Living Space | Rabbit cage measures 55.9L x 23.62W x 19.7H inches & includes a wood hutch ideal for nesting that creates a private living quarters for your pet
Easy Maintenance Rabbit Cage | Krolik features a 5.5" deep base to contain litter & entire base of the rabbit cage detaches for cleaning or dumping of litter / debris
Convenient Access | Full front door provides quick access inside the rabbit cage; wood hutch features a locking top panel w/ full access
This is another indoor cage, but a unique one since it comes with a hybrid design because it is made of different materials.
It has an upper wireframe, where the access point is located in the form of a wide door and a plastic base at the bottom. This combination is practical and beautiful and works well for this cage.
This habitat is 30 inches long, although you can get it in three different sizes. The 30-inch cage is standard size, but there is also large and extra-large if you have multiple rabbits.
The large one is 38 inches long, while the extra-large is 46 inches long.
The cage is equipped with a balcony ramp that gives your rabbit a point of elevation. This can provide your bunny with a more versatile living environment to quickly avoid getting bored with his habitat [2].
It also comes with a food dish and a water bottle.
Cage Highlights
30 inches long but available in two other sizes
Hybrid design
Equipped with a balcony ramp
Easy access due to the wide door
Living World Deluxe Habitat, Rabbit, Guinea Pig and Small Animal Cage, Standard
Habitat that provides everything you need for safely housing a small animal such as a rabbit, guinea pig, ferret, or chinchilla
Small animal cage is designed with an upper wire frame and a plastic bottom base, which provides a safe, well ventilated, and comfortable place for small pets
Includes a balcony with access ramp and small animal hideout, tip proof small animal food bowl, drip proof small animal water bottle, and hay guard
Animal cage assembles in minutes using 4 easy to use plastic clips; no tools required
Dimensions: 30.7 L x 18.9 W x 19.7 H inches
This cage is constructed with a robust square-tube frame and a durable wire metal. It is meant for indoor use, and it is a bit different in design from all the other cages and hutches on our list.
However, it still looks attractive enough and can fit well with any décor.
The cage consists of two platforms connected with a ramp ladder to allow your rabbit to move between the levels.
It also comes with a stand with wheels to allow you to move the cage around the house when necessary quickly. This stand can also come in hand to store food, litter, and other accessories.
The shelves come with three height adjustments, so you can have a lot of control over how you want the cage to look. This gives you a lot of freedom when it comes to accessorizing.
The shelves are removable and allow you to clean the cage easily. Another easy access point comes at the full-width double doors.
The cage is 36 inches long, 25 inches wide, and 63 inches high. This provides more than enough room for one or two rabbits.
Cage Highlights
Can house 1-2 rabbits
Adjustable features
Made of durable materials
Easy to assemble
Multiple access points
Removable shelves for easy cleaning
Sale
MidWest Homes for Pets Deluxe Critter Nation Double Unit Small Animal Cage (Model 162)
Includes 2 pans, 2 adjustable shelves, 3 plastic ramps with covers & easily maneuverable stand with 4 locking wheel casters
Full-width double doors on critter nation small animal cage and removable shelf provide maximum accessibility for easy cleaning & feeding
Critter Nation's wide expanse shelves & full width leak proof pans provide maximized play area & prevent dangerous falls
Great for Rats, Chinchillas, Dagus, Ferrets, tubing (corners) 0.6 inches square & 1/2 " horizontal wire spacing allow pets to fulfill their instinct to climb & explore in a secure environment
Dimensions: 36" L x 24" W x 63" H
This is one of our favorite rabbit cages when it comes to design. It looks genuinely breathtaking, and even though it can be used outdoors, it can also fit any décor if you want to keep it indoors.
The white finish on the solid wood gives it a unique look. You can even choose the color of the enclosed sleeping area since it comes in both grey and red.
The cage is 38 inches long and 20 inches wide, which means it is big enough for one or two rabbits.
That's plenty of room for them to be comfortable, but still, the cage is not too large to disrupt the look of your living room.
The access point is designed on the top with a pneumatic roof you can lift with ease whenever needed. This cage also has a unique feature – a sliding bottom tray that you can take out and clean quickly.
However, it would be best if you were careful not to spill anything when trying to remove the tray.
Although you will have to assemble yourself, the cage comes with pre-drilled holes to make the process as simple as possible.
Cage Highlights
38 inches long
Beautiful, solid wood design
Easy access provided by the top opening roof
Removable bottom tray
Petsfit Guinea Pig Cage Rabbit Hutch Rabbit Cage Bunny Cage Bunny Hutch Guinea Pig Hutch with Pull Out Tray
Spacious Space: 38L x 19.5W x 34H inches. Great for 1-2 rabbits and similar-sized pets such as guinea pig, hamster and ferret, providing more room for pets to maneuver with no weight limit.
Thoughtful Design: Easy to assemble for minutes with pre-drilled holes. Deeper plastic pull-out tray with no leakage at the bottom is handy for cleaning up. Roof on the enclosed side can stay up on gas strut hinge, and the floor boards here are removable to clean with ease.
Sturdy to Use: 100% made of 10mm Finnish spruce panels, thicker than others ensures good sturdiness to use. All metal meshes are firmly embedded in the wood with sufficient screws, keeping your pets safe from other big animals outside to crash through. Hutch is designed for indoor use but can be varnished for outdoor wear as well if have to.
Tips for Use: A litter box with hay would be recommended if he/she has been well trained. If not, suitable litter, recycled newspapers, puppy pads or fleece mat on the bottom would be good choice to clean up. For boredom chewers, providing them some wood sticks, newspaper or fresh vegetables on a regular basis.
More Care for Bunnies: It is harmful to rabbits feet when standing on wire mesh floor for long time. What's more, allow the bunny increasing amounts of time out of its cage, under supervision. It is recommended that rabbits NOT be kept outdoors when temperature is above 85-90 degrees in case of heat stroke.
Buy with Confidence: Petsfit adhere to Amazon Return Policy. Within 30 days, we will take full responsibility of all quality problems. You can contact our customer service for replament or returning.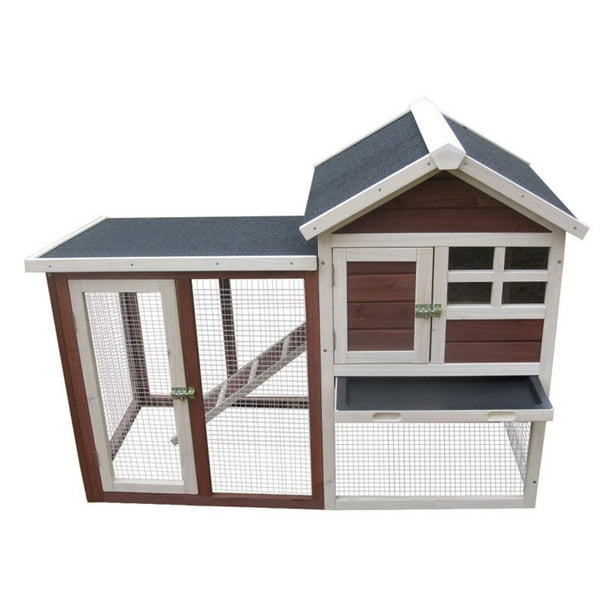 This is a simple rabbit hutch, but it has all the necessary for your bunny to be happy. It is a two-story hutch with plenty of ground space and an enclosure located on the second floor.
This stilted house or nest box protects from the elements and comfort for sleeping or nesting.
While the hutch is not that long since it is only 25 inches long, it is wide enough to provide enough space for two rabbits.
However, the main advantage of this hutch is durability because most of it is made from high-quality fir. This durable wood is resistant to rot and insists.
Keep in mind that the wire mesh is a bit softer than most of the other hutches, and if your rabbit is a chewer, it may be necessary to check it out from time to time for holes.
The hutch design is up to par with the rest of the cages and hutches on our list. The sleeping and nesting enclosure is exceptionally stylish and well-designed.
The hutch also includes a pull-out tray and a large access door.
Cage Highlights
25 inches long, 48 inches wide
Made out of durable fir wood
Well-designed
Two levels
Easy Access
Pull-out tray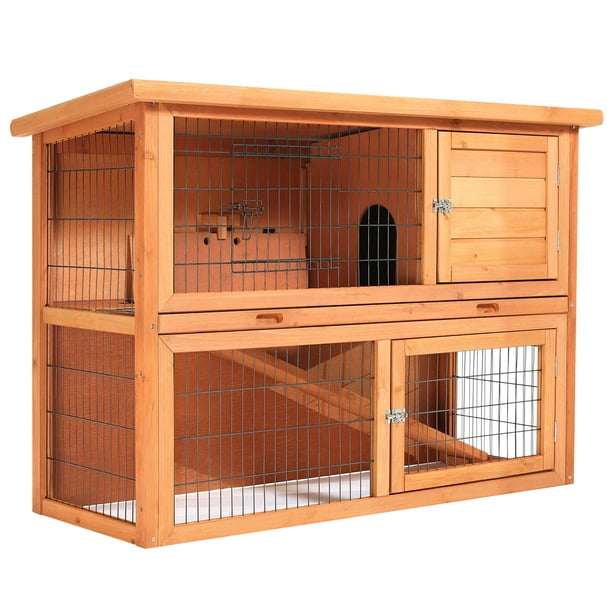 This is another hutch made out of durable fir wood. The wood has also been treated to resist the elements like rain and snow, but it is also pest-resistant.
However, this hutch would also look good indoors if you have room for it since it is 48 inches long.
Wire sections of the hutch are coated to be resistant to rust, fade, and corrosion. The roof is made of asphalt to provide your bunny with the necessary protection from the elements and predators.
It is also the access point for this cage and a very comfortable one since it can be fully opened. However, it is not the only access point since you can also access the hutch using the small front door.
This hutch has two levels, with separate sleeping and running area. There is enough room for your rabbits to roam. They can also use a slip-proof ramp to move between the levels.
This hutch also comes with a removable sliding pan that allows you to clean it easily.
In addition to all this, SmithBuilt Crates Rabbit Hutch has a simple but elegant design.
Cage Highlights
48 inches long
Build out of durable fir wood resistant to elements and pests
Wire parts resistant to rust and corrosion
Multiple access points
Two levels
Removable sliding pan
This is a large hutch ideal for multiple rabbits. It is 63 inches long and has two levels where your rabbits can hop around and sleep.
The combination of a nesting house and outdoor enclosure provides rabbits with a safe, comfortable and varied living environment.
The Cottage-Style design is attractive and interesting. The hutch is made of strong and durable wood and strong mesh.
The grey and white finishing give the wood a classy look, so this hutch will certainly fit well into any backyard. The asphalt room is also there to protect from the elements.
The hutch comes with three built-in sliding trays that allow you to clean it with ease. It also has three doors that provide you with multiple easy access points.
Cage Highlights
63 inches long
Two levels, separate living and sleeping areas
Cottage-Style design
3 removable sliding trays
3 easy access points
This is a small hutch that is more suitable for the indoors, although it can also be used outdoors if you don't mind it sitting directly on the ground.
The hutch is 30 inches long and 21 inches wide, spacious enough for one or two smaller rabbits.
This Trixie Rabbit Hutch comes with separate living and nesting areas. The nesting area is on the second floor. It is well-designed and covered with a roof to protect your bunny from the elements.
The hutch itself is made out of high-quality wood and strong mesh.
This hutch has a built-in ramp to allow your rabbit to move between the levels with ease.
It comes with two doors that provide easy access and attached roof panels which can also be opened and used to access the hutch. This hutch also comes with a pull-out tray that ensures easy cleaning.
Cage Highlights
30 inches long
Separate living and nesting areas
Built-in ramp
Easy access via 2 doors and roof
Removable pull-out tray
Sale
FAQs:
What accessories can I get for my rabbit?
Interactive toys for rabbits, cardboard boxes with holes, and paper rolls stuffed with hay are all great accessories that your rabbit will love. Make sure you don't give your rabbit anything to make them ill when eaten.
Do rabbits need exercise?
Rabbits need a lot of exercise. Rabbits in the wild are very active and almost always on the move. On average, they run about 3 miles a day. Pet rabbits also need a lot of exercise per day.
How big should my rabbit cage be?
The minimum size your rabbit's cage should be is 12 square feet, and their exercise run needs to be an additional 32 square feet.
Which rabbit cage did you like to buy for your rabbits? Please share your opinion.
Resources
1. Housing of Rabbits – Exotic and Laboratory Animals [Internet]. Veterinary Manual. Available from: https://www.msdvetmanual.com/exotic-and-laboratory-animals/rabbits/housing-of-rabbits
2. March 2017 AB-LSC 07. Rabbits: Habits, Diet & Other Facts [Internet]. livescience.com. Available from: https://www.livescience.com/28162-rabbits.html#:~:text=Wild%20rabbits%20can%20be%20found