Do you need to find the best brush for guinea pigs?
I've collected seven available options that'll keep their coats nice and spiffy
Let's dive right in and see what one best suits your situation!
Let's start with a quick look at our top picks, then keep reading for all the glorious details.
Best Brushes for Guinea Pigs Top Picks at a Glance
If you see the value in these products and choose to purchase via my referral links, I may earn a small commission at no extra cost to you.
Check the table below for a side-by-side comparison of our favorites!
Table could not be displayed.
7 Best Brushes for Guinea Pigs (Buying Guide)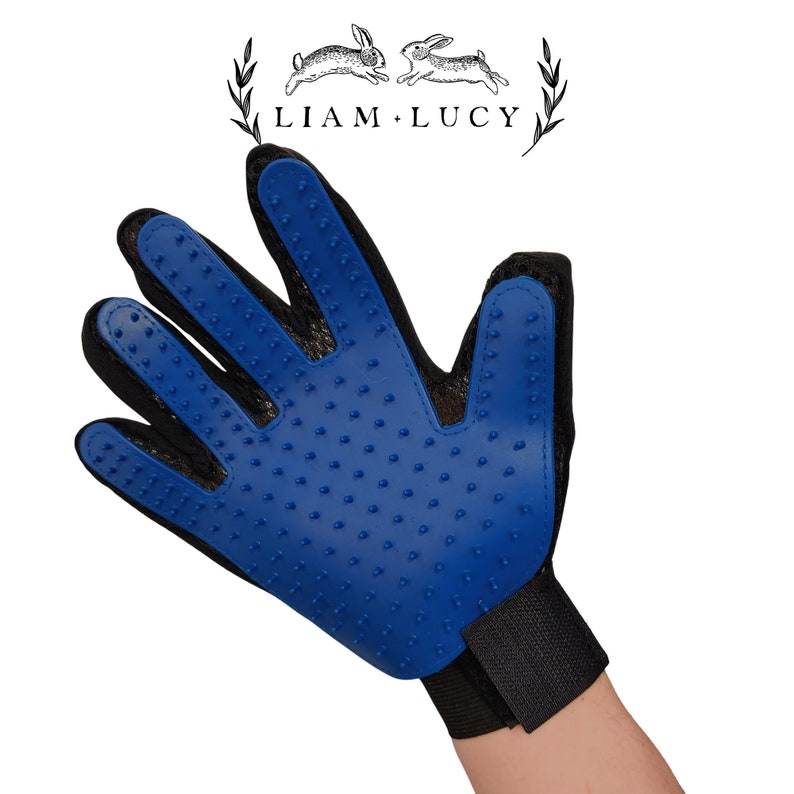 The LiamLucyPetSupply Grooming Glove Brush is an exciting option with its handle-less design.
It's a silicone and mesh-constructed glove that does a good job against matted hair or tangles.
Moreover, it allows users to brush and pet their guinea pigs at the same time.
It creates a much more comfortable setting for the brushing sessions.
Physical Attributes
Handmade
Mesh and silicone construction
Adjustable wrist strap
Three buying options (left, right, or left & right)
Measurements
| Benefits | Drawbacks |
| --- | --- |
| Pet and brush at the same time | No return policy |
| Lifts loose hair, tangles, and mats | Not ideal for extremely matted fur |
| Enjoyable experience | Fits most, but may be snug on very large hands |
| Fast shipping | |
Benefits
This product's pet and brush method offer a bonding experience like no other brushing equipment. It should have no problem keeping everything calm and cool during a piggy's grooming routine.
More importantly, its ability to deal with loose hair, tangles, and matted hair is second to none. Your guinea pig's coat will be looking pristine and utterly healthy with this grooming tool.
Its versatility was rather impressive, too, as anyone can use it. The adjustable strap will fit any size hand and ensures a comfortable using experience.
Multiple customers made a note of this product's fast shipping, as well. So it ends up being a user-friendly process for everyone lucky enough to buy this glove brush.
Drawbacks
The lack of return policy was a bit of a bummer. It does limit the options for anyone unsatisfied with this glove brush's performance.
However, it's rather doubtful many people will be looking to return it. It has far too many positive attributes to leave pet owners displeased with its performance.
How it Compares to Others and Why
It's hard to overlook its handle-less design and comfortable using experience. But one of the more underrated aspects is its ability to fit nearly any hand size (there are always exceptions) with its adjustable wrist strap.
It doesn't much more user-friendly when it comes to guinea pig brushes.
Expert Tip
You can use it on other animals too like rabbits, cats, and even dogs.
Kaytee's Pro-Slicker Brush keeps brushing comfortable for owners and guinea pigs.
The brush's comfortable rubber handle and plastic teeth offer a gentle, effective method.
It might even calm down a piggy who isn't too thrilled about their brushing sessions.
Physical Attributes
Weighs 1.6 ounces
Rubber ergonomic handle
Curved head
Pliable plastic teeth
Plastic tips
Measurements
| Benefits | Drawbacks |
| --- | --- |
| Comfortable to grip | Durability concerns |
| Tangle-free brushing | Some say fur is hard to remove from the brush |
| Affordable price | |
| Gentle brushing method | |
| Reduces shedding, adds luster, and prevents hairballs | |
How it Compares to Others and Why
This option's comfortable grip and gentle brushing are its most enduring qualities. But the affordable price and practical resistance against tangles don't hurt, either.
Expert Tips
"More for a guinea pig with the shaggy hair type not the short haired guinea pigs," according to one reviewer.
Dasksha's Rabbit & Guinea Pig Grooming Kit is a safe bet for long-term usage.
Both its grooming glove and hand comb are made from high-quality, durable materials.
There's no reason to believe it won't be within your life for a long time.
Plus, if it doesn't meet your expectations, it comes with a satisfaction guarantee.
Physical Attributes
Two grooming tool method (comb then grooming glove)
100% washable
Adjustable wrist strap on the glove
High-quality construction materials
Measurements
Hand comb fits all hand sizes
Glove is right-handed and adjustable
| Benefits | Drawbacks |
| --- | --- |
| Durable construction | Fur can stick onto the glove |
| Easy to clean | It may not fit XL hands |
| Satisfaction guarantee | Like other gloves, not ideal for severely matted fur. |
| Effective, gentle brushing and de-shedding | |
| Suitable for rabbits or guinea pigs | |
How it Compares to Others and Why
Aside from its durable construction, it's difficult not to be impressed with its easy cleaning method. Keeping the included pet grooming supplies in good condition shouldn't be hard.
Expert Tips
Run the glove under cool water to make removing the fur easier.
Lixit's Grooming Kits for Guinea Pigs is a one-stop-shop for guinea pig grooming supplies.
Buyers will get the guinea pig nail clipper, two brushes, and distracting wood chews.
In other words, everything a person needs to keep their guinea pig looking spiffy.
Physical Attributes
Metal nail trimmer
Soft-touch handle deshedding brush
Hand brush with soft bristles
Wood chews
Made in the USA
| Benefits | Drawbacks |
| --- | --- |
| Complete set of pet grooming supplies | Some customers had packaging issues |
| Suitable for various smaller animals | Not all guinea pigs like the included sticks |
| Each piece offer excellent quality | The metal brush may be too "prickly" for some cavies with sensitive skin. |
| Simple to use | |
| Keep teeth and gums healthy with included wood chew | |
How it Compare to Others and Why
Each part of this kit being quality certainly gives it an edge. The soft brush and top-tier deshedding brush alone would make this option worthwhile. However, it just reaches another level when you add in the metal nail trimmer.
Expert Tips
Use the wood chews to distract the piggy during grooming sessions.
Your guinea pig's loose hair won't want to encounter Small Pet Select's Hair Buster Cleaning Comb.
Its carbon brass steel comb will deal with those issues without breaking a sweat.
The product will also last a long time and hold up to everyday grooming.
But it costs a little more than most other options.
Physical Attributes
Carbon brass nickel steel comb
Chrome-plated design
Rounded tine ends to protect delicate skin
Purple colored sleeve
Wooden ergonomic handle
Measurements
| Benefits | Drawbacks |
| --- | --- |
| Heavy-duty construction | Expensive compared to others |
| Appealing design quality | You need to remove fur after every few strokes |
| Excellent on loose fur | |
| Comfortable feel | |
How it Compares to Others and Why
Its loose hair performance does provide it with an edge over the competition. Guinea pig owners will have no trouble keeping any unwanted hairs to a minimum with this brush.
Expert Tips
Brush "with fur, not touching the skin" as ends are pointy.
Alfie Pet Eissa Massage Brush can make a guinea pig drift off into absolute bliss.
Honestly, its massaging capabilities are top-tier.
It'll make even an afraid piggy love their brushing sessions.
Physical Attributes
Rubber brush nubs
White and pink color scheme
Plastic handle
Strong, durable construction materials
Measurements
6″ x 2.5″
Weighs 2.65 Ounces
| Benefits | Drawbacks |
| --- | --- |
| Suitable for dry or wet fur | Less comfortable to use than other models |
| Provides a wondrous, gentle massage | The nubs on the bristles eventually fall off |
| Effective deshedding brush | |
| Keeps skin clean | |
| Ideal for several other animals (cats, puppies, rats, rabbits, etc.) | |
How it Compare to Others and Why
This massage brush to provide a sense of ease to anxious piggies is a massive plus. It'll make an enormous difference by keeping brushing sessions from being a nightmare.
Expert Tips
When using, make sure you brush in the direction of your guinea pig's hair growth.
Our final product, Trixie Small Animal Grooming Glove Brush, is an affordable, decent choice.
Its smaller size is ideal suited for a child or smaller-handed adult who needs a grooming glove.
Moreover, its high-quality rubber design will last a long time and provide effective results.
Physical Attributes
Quality rubber material
Grooming glove design
Black and green color scheme
Measurements
| Benefits | Drawbacks |
| --- | --- |
| Affordable price | Not ideal for larger hands |
| Proven to stimulate blood flow | Doesn't get deep down into the coat. |
| Gentle touch | |
| Pets and brushes at once | |
| Suitable for more sensitive areas | |
How it Compare to Others and Why
It's just as effective and more affordable than most available grooming gloves. But the glove's size does make it a little less versatile than other choices.
Expert Tips
Be cautious of any chewing as its not chew-resistant
What to Consider When Choosing Guinea Pig Brushes
Choosing the right brush can be a little more involved than you might expect. Here's a quick look at vital aspects that are crucial to selecting a perfect option:
Size
The size will play a crucial role in defining a suitable brush for your guinea pig. For instance, there's no need to select a large one when you have a small piggy.
I'd also urge owners with larger guinea pigs to consider getting two deshedding tools. One of these options needs to be the proper size.
Meanwhile, the second deshedding brush should be smaller to use on the more tender areas.
Bristles
The goal here is to remove loose hair from a guinea pig's coat. It'll require a stiff bristle brush than a soft bristle brush as they won't work well.
But recognize, any guinea pig with delicate skin needs to stay away from sharp, exposed wire tips on metal combs.
Handle
Owners shouldn't sacrifice their comfort when picking a guinea pig brush. You'll be handling it quite a bit, making it wise to choose one that feels comfortable.
I'd also suggest looking at handless brushes with a glove or palm style. These options are more convenient as they let you brush a guinea pig while petting them.
Durability
A high-quality guinea pig brush will offer some impressive durability. It should last more than a couple of years.
FAQs
How often do you need to brush a guinea pig?
Guinea pigs usually require brushing only once or twice a week to help minimize shedding.
Can I brush my guinea pig with a toothbrush?
Using a toothbrush would probably be okay, but I'm always going to recommend using an actual brush as the results are better.
Conclusion
I hope our discussions on guinea pig brushes answered all our questions. But if you have more, let us know in our comment section.
Final Recommendation
LiamLucyPetSupply Grooming Glove Brush
References
"Amazon.com: Customer Reviews: Small Animal Grooming Glove – Brush, Mitten, Mitt, Guinea Pigs, Rabbits, Chinchillas, Groom." 2021. Amazon.com. 2021. https://www.amazon.com/Trixie-Small-Animal-Grooming-Glove/product-reviews/B001MKAY44/ref=cm_cr_arp_d_viewopt_kywd?ie=UTF8&reviewerType=all_reviews&pageNumber=1&filterByStar=all_stars&filterByKeyword=small.
"Good Grooming Kit." 2021. Amazon.com. 2021. https://www.amazon.com/gp/customer-reviews/R1WFYOR0CB2O1P/ref=cm_cr_getr_d_rvw_ttl?ie=UTF8&ASIN=B07BZTXX28.
"Grooming Toothbrush?" 2021. Guineapigcages.com. 2021. https://www.guineapigcages.com/forum/threads/53683-Toothbrush.
Hess, Laurie. 2017. "Grooming Care for Your Guinea Pig." Petmd.com. PetMD. July 12, 2017. https://www.petmd.com/exotic/grooming/grooming-care-your-guinea-pig#:~:text=Typically%2C%20guinea%20pigs%20need%20to,a%20trip%20to%20the%20veterinarian..
"Worked Well Until…" 2021. Amazon.com. 2021. https://www.amazon.com/gp/customer-reviews/RGRONO4B9I8OY/ref=cm_cr_getr_d_rvw_ttl?ie=UTF8&ASIN=B000HHS9T0.
For you, which are the best brushes for guinea pigs? Please share your pick with us below!
Ben Roberts
My name is Ben Roberts, and I absolutely love animals. So, naturally, I love writing about them too! As far as my animals, I have a Pit-bull, a Beagle-lab mix, a Chihuahua, and one old cat. Each one of them provides me with a new adventure every day. And the best part is they're all best friends. Well, except the cat when he gets a little annoyed.
FIND HIM ON: FACEBOOK and TWITTER.
Read his latest ARTICLES
Learn more about Benhere