We all want to do the best for our little ferrets, right?
But when it comes to getting the right ferret cage, that can be hard. There are so many options out there, so whether you are…
Thinking of getting a ferret but overwhelmed by the cage options out there
Or already have a ferret and a cage but want to upgrade it (the cage, not the ferret)…
… then, you've come to the right place because today, we'll show (and review) the eight best ferret cages on the market.
So, let's get started from the top.
This post contains affiliate links, and I will be compensated if you make a purchase after clicking on my links.
Top Ferret Cages at a Glance
Don't have time? Here is a quick comparison of our favorites!
Table could not be displayed.
8 Best Ferret Cages – Review and Buying Guide
This cage is the best ferret [1] cage available in the market. It is quite pricey, but it will serve its purpose for an extended period of time.
The Ferret Nation Cage is available in 2 sizes: Single story (36″L x 25″W x 38.5″H) and Double-story (36″L x 25″W x 62.5″H).
You also have the option to purchase an add-on unit (36″L x 25″W x 24″H) if you decide to add another pet in the future or you want to expand the space of your ferrets.
This cage provides plenty of room for your pets to play and for you to add accessories or toys inside. Plastic pan flooring protects your pet's foot from getting injured.
The double doors give you the maximum space you need to clean the cage thoroughly without hassle. The locking wheels make this cage movable so you can put your pets closer to you anytime.
Key Features
Available in 2 sizes: 36″L x 25″W x 38.5″H and 36″L x 25″W x 62.5″H
With the option to add another level/unit in the future (36″L x 25″W x 24″H)
Plastic pan flooring
It comes with ramp covers and a double door
Escape-proof lock mechanism
The opening on the Double-story unit can be closed to make 2 separate units if necessary.
Benefits & Drawbacks of MidWest Homes For Pets Deluxe Ferret Nation Double Unit
| Benefits | Drawbacks |
| --- | --- |
| Big enough for your ferrets to live in | No separate debris tray |
| Excellent lock mechanism that will prevent escape | Expensive |
| Easy to move from room to room | |
| Double-storey unit can be made into 2 separate units when necessary | |
| Can be expanded by purchasing an add-on unit | |
MidWest Homes for Pets 182 Ferret Nation Double Story Unit, 1-Year Manufacturer Warranty
Ferret nation double unit habitat/cage with stand. Ferret nation (182) includes 2 pans, 2 shelves and 3 ramps with ramp covers
Full width double doors on ferret nation cage and removeable shelves provide maximum accessibility for easy cleaning & feeding
Ferret Nation's wide expanse shelf & full width leak proof pan provides maximized play area & prevents dangerous falls
Extremely sturdy & durable metal Ferret cage & stand is easily maneuverable with 4 locking wheel casters
Appropriately angled ramps with reversible happy feet ramp covers specifically designed for ferret safety
#2 Exotic Nutrition Mansion Cage
This mansion cage is perfect for ferrets [2] and other small pets. The best thing is that experienced and trusted professionals designed this to give you the confidence that you are providing the best for your pet.
The entire cage, its platforms, stairs, and floor bases are made up of heavy-duty metal, making it sturdy and will last the lifetime of your pet.
The mansion cage is spacious enough to allow other accessories to be installed and for your pet to have extra room to roam around.
The cage is placed on a 4-wheeled stand making it movable. The door is wide enough for easier cleaning.
There is also a lower shelf that can be used as storage for ferret food, cleaning materials, ferret toys, or other accessories for the cage.
If you want to have a bigger place for your friend, you can purchase an add-on unit and place it on top of the mansion cage.
This is a high-quality cage but a much cheaper alternative with the same quality as the Ferret nation from Midwest homes for pets.
Key Features
Come in 2 sizes: L36xW22xH33 and L58xW22xH33
Comes with an option to install additional level
Made with 100% heavy-duty metal that makes this cage chew and scratch proof
Big enough space for additional accessories and for your companion to roam around
The whole cage is powder-coated, making it robust and can last for longer use.
Benefits & Drawbacks of Exotic Nutrition Mansion Cage
Benefits
Drawbacks
The provision to add another level helps
if you decide to have another ferret.
Doesn't come with other accessories
Heavy-duty locking system to ensure
that your pet won't be able to unlock
the cage by themselves
Wired ladder can potentially hurt
the ferret's hands/feet.
A lock keeps the tray in place
Huge front door makes cleaning easier
The Prevue Hendryx Black Feisty Ferret Cage comes with platforms, ramps, and a hammock for ferrets.
It also provides a huge space that your active and energetic pet can enjoy, and you can add more accessories or toys for the entertainment and amusement of your pet.
This cage has three doors – 2 huge doors that open on one side only and a small rooftop door. You can also separate the 2 levels by closing the mid-level opening.
It has wheels making it easy to move. One would get their money's worth for this cage.
It is made with wrought iron that will last a long time, and it is strong enough to hold your playful pets and keep them safe.
Benefits & Drawbacks of Prevue Hendryx Black Feisty Ferret Cage
Key Features
Size is 31 x 20 x 54 inches
2 large doors for each level and a small rooftop door
Extra shelf for storage
Made with wrought iron
Can be made into two separate spaces
| Benefits | Drawbacks |
| --- | --- |
| The debris tray has a lock keeping it in place to avoid further mess | Wire flooring can hurt your pet's feet |
| Very mobile | Plastic ramps and platforms can be chewed |
| 2 huge doors allow for easy cleaning | The rooftop door is relatively easy to open and may cause an escape. |
| Excellent lock system for the 2 huge doors in front to keep your pet from breaking out | |
| Plenty of space for your ferrets | |
Sale
Prevue Pet Products 485 Feisty Ferret Home with Stand, Black Hammertone
Spacious: This ferret home offers plenty of space for even the most energetic adult ferrets to run, jump, and play. The steel metal cage includes ramps, shelves, and a hammock to keep your fuzzy friend entertained and happy.
Easy Access: Two large doors means easy access to your small pet. The large hinged cage doors are escape-proof and ferrets cannot open the doors. This opening can also be closed off to create two separate spaces or be left open for full cage access.
Easy to Move: Our portable ferret crate with stand features easy-rolling caster wheels to move the ferret cage from room to room. You can store toys, ferret treats, and supplies on the space-saver storage shelf stand.
Easy to Clean: The platforms, grille, and bottom tray are easy to remove for convenient cleaning. Your pet ferret will enjoy a fresh, open metal crate home with this secure animal cage in a stylish hammertone finish.
Dimensions: This ferret small animal enclosed pen measures 31 inches long, 20 inches wide, and 41 ½ inches high (54 inches high on the stand) with ⅞ inch wire spacing. Our ferret pet enclosure is comfy, spacious, and fun.
This cage is made up of chew-proof coated wire. However, the platforms, ramp, slide, and funnel are plastic. It is available in one size only.
The size of this cage doesn't meet the required size in terms of length (L30xW18Xh20). However, the height of this cage can compensate for that since it is double the required dimension.
One ferret can live comfortably in here. Two at most if the ferrets are small. The materials are a bit light, and with playful and active ferrets, this cage might not be able to hold up.
Key Features
Size is 24″ x 24″ x 41.5″
Comes with a hammock
With removable wheels that can be locked when in use
Chew-proof coated wire
Features 3 doors: bottom, middle and rooftop
Benefits & Drawbacks of Kaytee My First Home Deluxe 2X2 Multi-Level With Casters
| Benefits | Drawbacks |
| --- | --- |
| You have the option to remove the wheels if you want to make the cage stay in place. | There is no separate tray for urine/feces. This may require frequent baths for your ferret, which is against the recommended quantity (Max of once a month) |
| Comes with a hammock and funnel for the entertainment of your ferret | Escape prone doors because it is easy to open |
| Has 3 doors for each level and easy access to your pet | Challenging to clean due to the small doors |
Sale
Kaytee My First Home Deluxe Multi-Level Habitat with Casters for Pet Ferrets
Easy to clean deep scatterless base can be removed and replaced in a snap
Provide your small pet with a safe, creative multi-level environment in which to exercise and play
Includes safety ramps, spiral slide, hammock, Ferret Fun-nel, and 3 comfort shelves
Dimensions: 24" x 24" x 41.5" with bar spacing: 1"
Colors Vary
When purchasing this cage, you will have an option to choose between two sizes, 25 x 17 x 36.5" and 25.2 x 16.9 x 51.6'.
It is durable and can be used for a long time because of the high-quality steel wires that are powder-coated to avoid corrosion.
It also comes with a water bottle and food bowl, so you won't have to make an extra purchase.
The height of this cage is pretty good for a ferret. However, the length and width don't meet the recommended size (at least 30x18x20).
So, the maximum number of ferrets you can put here is one. It is also important to note that the pull-out tray is very helpful in keeping your pets clean. The wire over the tray can also be pulled-out.
Key Features
Comes in 2 sizes. 25 x 17 x 36.5" and 25.2 x 16.9 x 51.6'
Made with high-quality steel wires and powder coated to ensure durability
Includes water bottle and food bowl
Stands on wheels
| Benefits | Drawbacks |
| --- | --- |
| Mobile | Prone to escape because the doors are easy to open. Can be fixed with extra wire |
| Durable and long-lasting because of the materials used | The doors are quite small. Cleaning the inside of the cage can be a challenge. |
| Comes with extra accessories to avoid additional purchases | The length and width doesn't meet the recommended size for a ferret cage (at least 30x18x20) |
| Pull-out tray and pull-out base wire is very helpful in cleaning urine/stool | |
Sale
Yaheetech 52-inch Ferret Cage 6 Level Metal Rat Cage with 3 Front Doors/Feeder/Wheels Small Animal Cage for Ferret/Chinchilla/Bunny/Rabbit/Squirrel, Black
【DURABLE & STURDY】This cage is constructed of powder coated metal square tubes and wires; safe hammertone paint gives this stylish cage excellent wear and corrosion resistance; features 4 heavy-duty casters at the bottom ensure high load capacity.
【EXTRA LARGE EXERCISE PLACE】25.2 x 17.2 x 52'' large pet chinchillas cage with 0.9'' bar spacing allows several small animals to have fun at the same time; six tiers are connected with ramps, which expand the usable area for pets to climb and rest; perfect for adult small pets like guinea pigs, squirrels, chinchillas, ferrets, rabbits, hedgehogs, etc.
【SAFE & SECURE】All three arched doors are secured with latches, keeping your pets safe in the cage when you are not around; arc designed ramp with embossed stripes for safety purpose, which can increase the friction and prevent your pets from slipping during their climbing; smooth seams and rounded corners protect your pets and yourself from undesired injury
【EASY CLEANING】3-Door design makes it easy to clean the cage and tiers with tools; a slide-out tray under the cage can be removed and cleaned with water; a metal mesh between pets and the tray can avoid your pets walking/laying directly on their droppings
【CONVENIENT MOVING】4 Smooth rolling casters can be rotated in all directions for convenient moving; This squirrels cage comes with a complimentary wall-mounted water bottle and a pet bowl.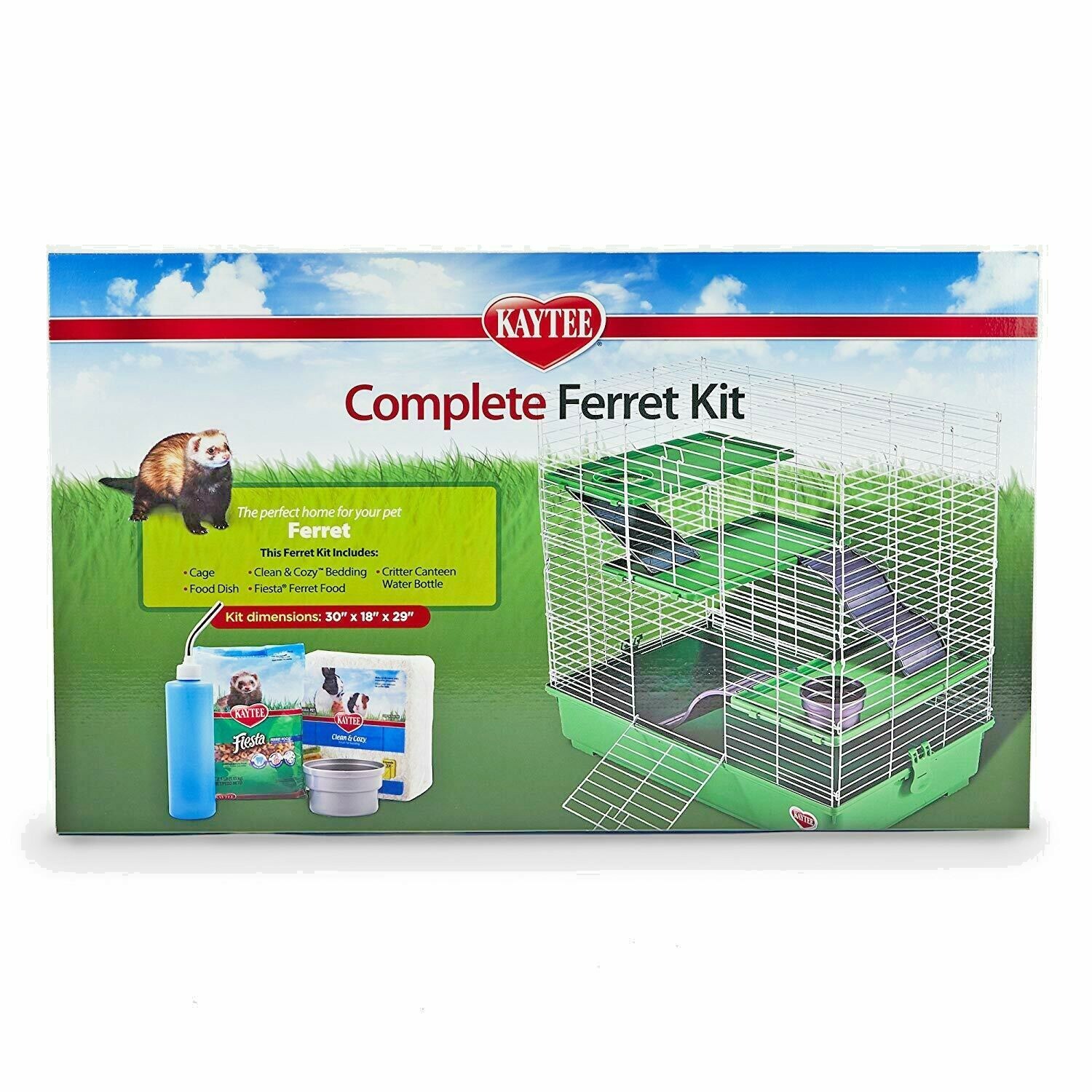 This cage comes with a few accessories for your ferret like a food bowl, water bottle, Kaytee Fiesta ferret food, and Clean & Cozy bedding.
It is available in one size and one color only. The ramps and platforms are made of plastic. This cage can be assembled easily without the need for tools.
It is recommended that you bathe your ferret, not more than once a month. With this cage not having a separate tray for urine/stool, you might have to bathe your ferret more frequently.
The only accessory that can be placed inside is a hammock.
Since the base floor is pretty much the litter box, it is impossible to put in more accessories for your pet's entertainment (check out more litter for ferrets here).
The size of this cage is 30 x 18 x 29. Although it is perfect for the recommended size (30x18x20), a bigger cage is still better. There are better cages available close to the price of this one.
Key Features
Size is 30 x 18 x 29
Comes with a food bowl, water bottle, and a sample of Kaytee Fiesta ferret food and Clean & Cozy™ Bedding
Benefits & Drawbacks of Kaytee Complete Ferret Kit
| Benefits | Drawbacks |
| --- | --- |
| Comes with extra accessories to lessen additional purchase | The front door is relatively small and makes cleaning hard |
| This cage is fairly easy to assemble. There's no need for tools. | There is no separate tray for urine/feces. You might have to bathe your pet more frequently, which may be bad for your pet |
| | The locks are easy to be open, and your pet may be able to escape. This can be fixed with wire. |
This cage is pretty much basic. It comes with a platform and ramp made with plastic. A small rooftop door makes it easier for you to get your pet without opening a large door and risk an escape.
This cage is available in one size only. This cage may even be small for just one ferret, and the space of the bars (⅞ inch) may be a little ample for smaller pets.
In addition, if you get this cage, you should line the bottom with solid material. Otherwise, your ferret may hurt its feet.
Key Features
L25xW17.1xH34
With rooftop door
Stands on wheels
With a shelf for extra storage
With pull-out tray
Benefits & Drawbacks of SNUGENS 2 Story Outdoor Wooden Bunny Cage
Benefits
Drawbacks
Front door is big, making cleaning easy
The ramp and platform is made of plastic and,
therefore, can be chewed
With rooftop door for easier access to your pet
The rooftop and front doors are easy to open,
and your pet may break
out of them. Can be fixed with a wire
Portable
The base is not solid and may
injure your pets hands/feet
The size of the cage (L25xW17.1xH34) is smaller than the recommended (L30xW18xH20).
However, due to the height of the cage,
it has the recommended total living area,
but the area of the floors is somewhat smaller than recommended.
SNUGENS 2 Story Wooden Rabbit Hutch, Indoor Bunny Cage Chicken Coops Guinea Pig House Hamster Accessories, Nature Color with Ladder Fence Door Pull Out Tray for Little Small Animals
ULTRA DURABLE MATERIAL: The entire pet house is made of carefully chosen anti-corrosion fir wood, protecting it from all types of weather and standing up to everyday wear and tear so as to last for many years to come.
COMPACT STRUCTURE: Its compact, low footprint design easily fits 2 separate stacked cages in a smaller space. This rabbit starter kit makes small animal ownership possible without sacrificing a whole lot of room!
PET FRIENDLY DESIGN: Designed with your pet in mind, one side of the enclosed hutch is designed for privacy and rest while the other offers a more open style for play. This rabbit hutch allows you to separate and house your furry friends on different levels with a ladder for interaction.
ENOUGH SPACE FOR SMALL PETS: The Wooden Pet Shelter is wide and spacious on the inside of it, providing an open, roomy area for your pets to lounge, play, and sleep. It is not recommended to place it in an open courtyard, or the wood may crack outdoor.
PROTECTION AGAINST PREDATORS: With its firmly fixed bolts on every entrance and window, your fragile ones will be well protected against predators when you are not around. This is a secure shelter you won't regret buying for your beloved ones.
The Homey Pet-3 cage comes in three colors: brown, pink, and blue. You have an option to purchase a 1-tier or 3-tier cage.
The platforms, ramps, and pull-out tray are made of plastic, while the rest of the cage is made of wire painted with material free from lead to ensure your and your pet's safety.
It is also covered with non-hazardous powder-coating to ensure that your cage will not rust in a short period of time.
The standard size suitable for a ferret is at least L30xW18xH20.
Given the size of the 1-tier cage, the 1-tier cage (L26″xW18″xH21″), the maximum number of ferrets that you can house here is one, and the space is limited for other accessories and legroom.
However, the 3 tier cage is quite bigger (L26″x W17″x H38″), and I would say that it is suitable for one ferret with further room for other stuff.
Key Features
L26″x W18″x H21 or L26″x W17″x H38″
Lockable wheels
Completely secured urine tray
Materials used are non-hazardous and lead-free to ensure your and your pet's safety.
| Benefits | Drawbacks |
| --- | --- |
| Transportable, and the wheels have locks/brakes to keep the cage steady | Can be chewed and scratched because of the plastic material used |
| Keeps your place clean due to the secured pull-out tray | Due to the small size of the door, cleaning can be challenging |
| | The holes on the bottom base are quite big. Small animals might get their feet stuck or injured |
| | The simple lock system makes it easy for your pet to get out and escape. Can be fixed with wiring |
| | With the shallow pull-out tray, urine or other mess can spill when you try to pull the tray out |
What are your favorite cages for ferrets? Share with us below!
Resources
1. Ferret Topic Center | PetMD [Internet]. www.petmd.com. [cited 2022 Feb 5]. Available from: https://www.petmd.com/ferret/topiccenter
2. petMD. How to Take Care of a Ferret: Ferret Care 101 | petMD [Internet]. Petmd.com. 2016. Available from: https://www.petmd.com/ferret/care/evr_ft_how-take-care-of-a-ferret-ferret-care-101
Alina Hartley
Alina Hartley is a small-town girl with a ginormous love of bearded dragons. It all started with Winchester, a baby bearded who was abandoned at the shelter by his former owners because of a birth defect that caused one front leg to be shorter than the other. Alina originally went to the shelter looking for a guinea pig, but one look at Winchester and it was love at first sight. From that day on, Alina has dedicated her life to learning everything she can about bearded dragons. She loves helping new beardie parents start their incredible journey with these magnificent reptiles.
Follow her on:
LINKEDIN
TWITTER.
Read her latest articles HERE
Learn more about her HERE.